WSJ: Nextdoor Founder Lists San Francisco Home for $25 Million
August 10, 2020 Filed under: Press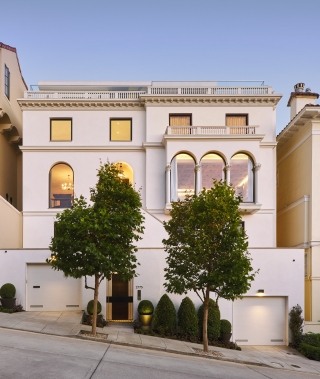 By Katherine Clarke, Aug. 10, 2020 11:10 am ET
Nirav Tolia, who bought the Pacific Heights property as a wedding present for his wife, is temporarily moving to Italy with his family
A founder of Nextdoor, the hyperlocal social network where neighbors go to scout babysitter recommendations, grumble about each other and search for lost pets, is listing his San Francisco home for $25 million.
Nirav Tolia, who co-founded Nextdoor in 2008, said he bought the Pacific Heights house in 2011 as a wedding present for his wife, Megha Tolia. He said they are selling because they are temporarily relocating with their three sons to Florence, Italy, where they spent a few months before the area became a coronavirus hot spot. When they return to the states, they plan to find a home outside the city, he said.
Located just two blocks from the Presidio park, the house is configured as six bedrooms and spans three levels, with most rooms featuring views of San Francisco Bay and the Golden Gate Bridge. The Beaux-Arts home was designed around 1916 by George Applegarth, the San Francisco architect best known for designing the California Palace of the Legion of Honor, according to Malin Giddings of Compass, one of the listing agents.
Mr. Tolia said he fell in love with the house for its historic details, including an original coffered wood ceiling in the main living room, which is visible from the street.
"My first memory of the house is standing outside and being transfixed by the stunning Italian coffered ceiling," he said in an email. "The house certainly needed work, but the bones were clearly excellent, and with a little bit of love, I knew it could be a rare and special place to raise our family."
Several years after moving in, the Tolias embarked on a three-year renovation, essentially rebuilding the home while restoring the coffered ceiling and other original details, Mr. Tolia said. The finished product has a large great room with an open kitchen. There is also a formal dining room clad in vintage Fortuny, with custom draperies and a Venetian glass chandelier.
The master suite on the top floor has wraparound windows. The drapes work on a timer, Ms. Giddings said, so the owners can fall asleep looking at the views of the bay but wake up in a darkened room.
The property's large back garden has a flat area at the rear of the house for children to play, and plantings leading up a hillside terrace. The property also comes with a two-car garage.
Mr. Tolia stepped down from his role as chief executive of Nextdoor in 2018 and currently serves as chairman. Asked if he used Nextdoor in his own neighborhood, Mr. Tolia said his family had relied on the network to find local babysitters, plumbers, and other service providers.
Ms. Giddings said the San Francisco market has been resilient even amid the Covid-19 crisis, thanks in part to limited inventory in the Pacific Heights area. In June there were 31 contracts signed on single-family San Francisco homes asking $3 million or more, compared with 21 in June of last year, according to a Compass market report.
"In my part of town, I think the demand will be just as much as it always was," said Ms. Giddings, who is listing the property with colleague Neal Ward.
View article HERE