About Malin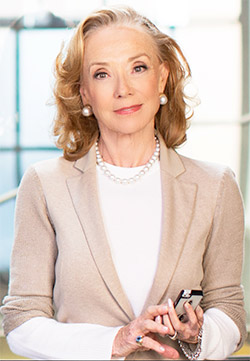 With a record of well over 4 billion dollars in residential sales combined with her unique focus on the north side of town in the finest locations, Malin's knowledge and expertise are unparalleled. Her portfolio of home representation is in a class by itself and without comparison.
Over the years, Malin's achievements have been featured in many articles highlighting several record-breaking sales such as the Getty Penthouse and more (see News Articles). Recent feature stories include:
Recipient of Biggest Sale of the Year 2018
Feature article in

In Their Own Words

, Inside the Minds and Motivations of the Top Producers in Bay Area Real Estate
2016

Most Valuable Agent Award

from The Luxury Marketing Council
Haute Living, Sept./Oct. 2008, Power Players of San Francisco
San Francisco Chronicle Magazine featured Malin on its cover leading the story on Real Estate Rainmakers
Unique Homes Magazine, May 2006 Issue - 35 of the Most Influential People in Luxury Real Estate, including Malin Giddings, Jack Nicklaus & Ben Bernanke
San Francisco is known as one of the most vibrant niche markets with its spectacular City and water views. For Malin, Location x Three has always been her singular focus. She has intimate knowledge and experience in marketing the finest properties in the most prestigious neighborhoods.
In the rarified world of luxury residential marketing, savoir faire makes all the difference. That is what Malin brings to every aspect of the process – proper pricing, innovative marketing and elegant presentation.
Her superlative website sfproperties.com, along with brochures and print advertising elegantly convey a wealth of visuals and information. Custom presentations and sophisticated marketing are what set her apart to attract affluent clientele and high-end brokers. Most of the City's high-end sales are associated with her name, record-breaking time after time.
Malin has brought her extensive experience, impeccable performance, and local expertise to Compass as a founding member of Compass San Francisco. Compass is building the first modern real estate platform, pairing the nation's top agents with technology to reinvent the real estate process. Compass has built a best-in-class marketing and advertising agency that strategically crafts the narrative of agents and listings through a modern, cohesive, and luxurious brand. At the core of the company is a nationwide community of innovative, collaborative, highly productive agents, who are shaping the future of real estate. Malin has been invaluable in building the Compass team in San Francisco.
Personal attention is what Malin's clients expect and deserve. With her uncompromising dedication to service, she sets the very highest standard to inform and guide her clients. Among her many letters of appreciation are such quotes as:
"proactive and can-do attitude"
"accessible, hands-on and oh, so personable"
"negotiating skills a god-send"
"so impressed by you and your team's professionalism and talent"
"committed to your client's happiness and success"