San Francisco's Secret Million Dollar Agent: Conversation with Malin Giddings
October 20, 2015 Filed under: Press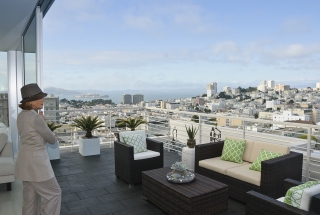 San Francisco may be making headlines for its sky-rocketing home prices and multimillion-dollar listings, but there is one name noticeably absent from those stories: Malin Giddings. Despite her reign as the city's No. 1 real estate agent and involvement in its most historic residential sales, Giddings remains tight-lipped about her affluent clientele and record-breaking closings.
"Loose lips sink ships," she says. "Agents need to develop the skill of listening instead of talking. If you zip your lips, you will be surprised what clients share and tell you, and you yourself will stay out of trouble."
Perhaps Giddings inherited her gift for discretion. As the daughter of a Swedish envoyé (a title for a select few representing the King at social events when the head of state is otherwise engaged) and president of the Nobel Foundation, she was raised in one of the few privately owned homes in the Swedish royal family's Haga Park. Her pedigree has inspired a deep understanding of discretion and privacy, often held as a closely guarded prize among those with great wealth. And while it has not necessarily defined her real estate career — or her $3 billion-plus residential sales amassed since 1975 — it has become the backdrop of her success narrative and a key reason why her wealthy clients, many of whom are high-profile venture capitalists and tech founders, continue to seek her guidance on San Francisco's uber-competitive luxury residential landscape. Billionaires or not, they still prefer a level of anonymity as they navigate the perils of high-end shelter seeking within the city's most sought-after neighborhoods.
What's on the horizon for them in 2016, and for the ultra-luxury sector as a whole? We asked Giddings to be our guide.
What's the secret to your success in the ultra-luxury market?
Focus. You can't be a dilettante and go all over the city and sell everything. You must focus on certain properties, and the most important factor remains "location, location, location." I have focused on markets north of California Street in the city — Russian Hill, Pacific Heights, Presidio Heights and Sea Cliff — for over 40 years now. This gives a client the peace of mind that my guidance is based on vast experience with a historical perspective and overview.
What has surprised you most about your market this year?
Because I am focused on such a small area, very little surprises me. What has been surprising to most people is how little inventory there is in San Francisco. Even if you have money, there is very little to buy. Patience and persistence have to be factors in addition to money in order to succeed in finding what you want in this tight marketplace.
Have there been any big changes or trends this year?
That is more a question for the stock market, which can have sudden fluctuations. Real estate doesn't change that quickly; typically, you won't know a trend until six months later.
Going back to the issue of inventory for a moment, are ultra-high-end pocket listings even a thing anymore?
For sellers, there are very few pocket listings in the price ranges below $10 million, as that would not serve the sellers' best interest. In a market like this, when everything sells over the asking price, there is no way you can sell a house off-market and represent for sure what the the best price is. Pocket listings occur mostly in the ultra-luxury market, substantially over $10 million. Extraordinary heights are achieved, not because of several interested parties, but rather because of rarified features such as views and quality of construction and design.
What about privacy? Is that still a factor for sellers?
That's the only reason a seller would want a pocket listing in today's market — for the privacy. But the current market is so surprisingly competitive that sellers very quickly realize they could be leaving millions of dollars on the table if they don't sell on the open market.
What is the average number of offers you are seeing on your listings right now?
About three to four or more under the $10 million range.
Even properties that need substantial renovation?
Yes. I have found that there is often more interest for a property that needs work because the buyers' perception is that they are getting a better deal. If the property has the right view and location, both principal buyers and developers will come out. A bidding war starts, and the price is driven up. If it's a principal buyer, they often end up paying more for a fixer because they have no idea how difficult it is to renovate a house and work with the city planning department and, often, neighborhood associations. Location, view and potential are the primary drivers for San Francisco's ultra-high-net-worth individuals.
How would you define luxury vs. ultra-luxury in your market?
Most people buying in San Francisco's best locations understand that they will have to spend in the range of $6 million to $8 million for a quite nice, well-located home. Homes that have the features, amenities and water views that most buyers want will have offers in the $10 million to $15 million range. There are only a handful of buyers looking in the $25 million to $30 million range, as these properties — and buyers — are a rarity.
How much have these price ranges grown in the last two years?
The median sale price of homes on the north side of San Francisco is up 30% since 2013.
How long does it typically take high-end buyers to find a property in this market?
About a year. And I usually show them the house they regret not buying the first day! You see, when buyers start the search process, they usually don't understand the market. It takes about a year to educate them about the market…and then they won't win the first house they bid on. It's very time consuming and difficult to work with buyers in this market. You may show or bid on a property for a client four or five times. Every time you bid, you must be just as diligent about disclosures as the last time. But the agent doesn't get paid until the client gets the house. This is a difficult market for younger agents to survive and make a living, contrary to public opinion.
Are you seeing an influx of international buyers?
In San Francisco, it is mostly a local buyer at the very high-end, although now we are seeing a small percentage of people coming from New York and London who own several residences. I have found that Asian buyers do not typically gravitate to the city because they don't want an older home, which is our primary type of inventory. Typically, they want a large garden and privacy, i.e., "land," a rare commodity in their home cities where they most likely already live in luxury high-rise condominiums.
Are your buyers typically on the younger side because of the tech boom?
It's a mix. I would say the average age is about 35 to 45. But the "older" baby boomers are both on the buying side and selling side because they're downsizing. The problem is, there is very little inventory for them to move to — because they typically want views and full-service buildings, which are very few and far between on the north side, so in return, that does not free up their single-family home for the next generation. Of course, in most cases, they need to buy something in order to sell their current home.
What's your unique approach to marketing?
My personal belief is that informed buyers are good buyers. That's my style. I do about 80% of the work on a listing before it comes on the market. I make sure I know everything about the house before it goes into the MLS. My team develops a full disclosure package for potential buyers. Once they read it, they are informed, and little is changing their mind. This process instills trust — and not just for the buyer, but for the buyer's agent too. Agents know that when I list a home, everything is served on a silver platter so they can properly advise their clients.
Do you think San Francisco and Silicon Valley are headed for a slowdown (as some blogs keep predicting)? Or do you feel the ultra-luxury sector is pretty well-insulated?
I don't feel a slowdown. Our inventory in San Francisco is so low. We have so many more buyers than sellers. Even if there is an economic downturn, it doesn't mean there will be more homes on the market. My opinion is that a slowdown will not greatly impact San Francisco. It is all a question of supply and demand. Historically, the supply on the north side is low.
What makes the ultra-luxury market unique in San Francisco compared to other global cities?
Demand and little supply. Money doesn't buy you something that doesn't exist. Everybody wants unobstructed Golden Gate Bridge views, and they don't exist from most homes in the city. You can wait years for those.
Besides established stalwarts like Pacific Heights, are there any up-and-coming ultra-luxury neighborhoods in the city?
Noe Valley. It has great weather, trendy restaurants and entertainment, and the company commuter buses such as Apple, Facebook and Google serve the neighborhood.
What are ultra-high-net-worth individuals asking you for now that they weren't interested in five years ago?
They're asking for contemporary homes — spacious, informal entertaining rooms with high ceilings, expansive picture windows and view terraces. San Francisco has few of those. In the north part of town, where I work, there are no lofts, which would sell very well to all segments. They want to be in this location, but contemporary homes with all the right ingredients are hard to find.
Some buyers are quite experienced in renovating homes. For the untested, I counsel my buyers to broaden their home-buying parameters, in particular, to consider a fixer that has the location, good bones and view. I always make note of the best architects, general contractors and interior designers of homes that we inspect along the way, and I have my own choice recommendations of these professionals — which is vital to the buyer's peace of mind.
What are some trends in the ultra-luxury sector we can look forward to in 2016?
I expect to see continued demand for contemporary homes. And I'm hoping that there will be more inventory next year.
Well, we can certainly dream.
Interview by:
Gina Uriarte
Coldwell Banker California Home