Which cities are the best bets for real estate next year?
October 18, 2012 Filed under: The Buzz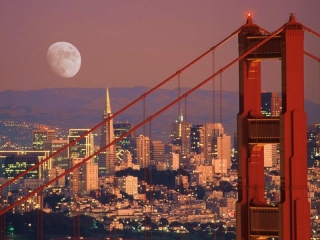 San Francisco was rated first for investment, development and home building in the 2013 "Emerging Trends in Real Estate" report by the Urban Land Institute and PwC. The report says: "In 2013, San Francisco steals the triple crown from Washington, D.C., receiving top billing in the Emerging Trends investment, development, and housing categories. 'San Francisco is driven by growth and a strong jobs outlook, led by technology and a structural change away from suburban and toward downtown.' Continued infill interest is supported by one of the best transit systems in the country and a city center with walkability that is number two only to New York City. 'This around-the-clock city has someone pushing paper, shopping, shipping, or sightseeing all the time.'

... According to 2013 forecasts from Moody's, San Francisco's GMP growth will reach 1.7 percent, and the city will add almost 50,000 jobs from the 2007 peak. This pair of growth indicators should open investors' eyes even wider to this global city. Even though industrial diversity seems weak here, investors still savor its skilled personnel and the facts that high tech accounts for 10 percent of the city's jobs and the young demographic represents over 15 percent of the population. Even with a questionable business climate at times, San Francisco has a mix that draws many corporations now and will draw them in the future."

The recovery of the nation's real estate markets will pick up next year, albeit still slowly and uncertainly, according to a new report.
San Francisco is predicted to lead the way, while focus will increase on secondary markets, such as Seattle.
"Real estate continues to meander along a slower-than-normal recovery track, behind a recuperating U.S. economy, dogged by ongoing world economic distress," starts the 2013 "Emerging Trends in Real Estate" report by the Urban Land Institute and PwC (formerly known as PricewaterhouseCoopers). "But for the third-consecutive year, Emerging Trends surveys indicate that U.S. property sectors and markets will register noticeably improved prospects compared with the previous year, and the advances now gather some measure of momentum across virtually the entire country and in all property types."
Investors are gravitating to real estate because, despite its slow recovery, they can make money there, while other investments tighten, said Mitch Roschelle, a partner and U.S. real estate advisory practice leader for PwC. "The big driver is this chase for yield."
The annual report is based on 600 surveys and 300 face-to-face interviews, looking at office, industrial, retail and residential real estate in 51 U.S. metro areas.
Last year's top-rated market, Washington, D.C., fell to eighth place, thanks to uncertainty about the election and the so-called "fiscal cliff" that will come without a new budget deal.
Tech, trade and quality of life helped drive San Francisco into the top spot, along with neighboring San Jose, which is third.
San Francisco "is the biggest gateway market with job growth in the tech space," Roschelle said, adding: "Job growth is the engine for the vitality of the commercial real estate asset class."
Similarly, oil and gas jobs helped land Houston in fifth place on the list.
Many of the top markets have gotten crowded, leading investors to look at smaller cities, Roschelle said. "One of the darlings of that field is Seattle (which is seventh on the list). ... If I were to pick a place where I'd see cranes in the skyline in the next 24 months, Seattle's one of those places."
Seattle and Houston are among a handful of cities with big growth in "Echo Boomers," people who are now 25 to 34 years old.
"They're really the ones that are going to be the homeowners in the future, the people working in the future," Roschelle said.
Developers are looking to build in markets where these young people are, he said. "It's sort of reverse 'Field of Dreams.'"
Echo Boomer growth has topped 20 percent over the past decade in Seattle, Houston, San Antonio and Austin, Texas, Raleigh/Durham, N.C., Albuquerque, N.M., Orange County, Calif., and Oklahoma City, Okla.
Within these locales, young people are increasingly looking to live in urban centers close to jobs and services, Roschelle said. "These Echo Boomers, when gas is $4 a gallon, they're walking to work and riding their bike to work."
As the report puts it: "(T)hese young adults willingly rent shoebox-sized apartment units as long as neighborhoods have enticing amenities with access to mass transit."
By AUBREY COHEN, SEATTLEPI.COM STAFF
http://www.sfgate.com/realestate/article/Which-cities-are-the-best-bets-for-real-estate-3957132.php#photo-3510058