Tour the Art-Filled Pacific Heights Home of Norah and Norman Stone
September 14, 2016 Filed under: The Buzz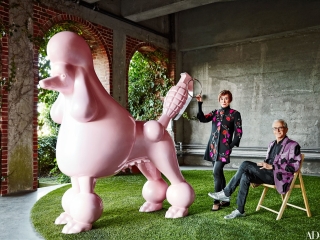 Article by: Architectural Digest
In their historic San Francisco home, art collectors Norah and Norman Stone give free rein to their playful sense of style

From the outside, the stately house on a prime hilltop block in Pacific Heights, the gold coast of San Francisco, couldn't be more traditional. Devised in 1927 by one of the city's most prominent architects, Arthur Brown Jr., the classically appointed Beaux Arts residence features a handsome redbrick-and-limestone façade capped with a slate roof whose fish-scale tiles mimic the gentle arches of the windows below. The only hint that the interiors, not to mention the homeowners, are anything but staid is the plaster bust of a Greek god crowned with a vivid blue glass sphere perched behind one of those windows.
The irreverent sculpture is by Jeff Koons, and it's one of the many bold contemporary artworks that give the home of Norah and Norman Stone its exuberant spirit. The philanthropic couple, trustees of the San Francisco Museum of Modern Art (SFMOMA) who are known for their colorful, imaginatively assembled outfits, purchased the historic house in 1994. Their first renovation retained almost all of the interior decoration, which is a work of art in its own right. The late, great designer Frances Elkins crafted the elegant rooms with a French vibe in 1937, installing chinoiserie wallpaper, upholstering banquettes in creamy leather, and draping windows with flouncy silks. But 75 years later, some of that wallpaper was deteriorating, the glass enclosing the solarium had started to crack, and, most pressing of all for the Stones, the living room just didn't function well for entertaining. "When we did the initial renovation, we did the least amount of work possible because we decided the art would just have to fit in, and it was gloriously happy," Norah recalls. Norman adds, "The art and architecture benefited from their combination. There was a visual energy that neither one had alone."

For the restoration the couple sought advice from their longtime art adviser, Thea Westreich—"our lead thinker," according to Norman—who had been helping them assemble their vast collection for two decades. (When the San Francisco house reached its capacity to hold art, the Stones built a 5,750-square-foot "art cave" on their Napa Valley estate.) Westreich not only steered them to what would be the living room's first new furnishings—a set of eye-catching brass-and-stone tables by Algerian jeweler/artist Taher Chemirik, acquired at London's Frieze art fair—but also introduced them to Tiffany Vassilakis, the decorator who had refreshed Westreich's own New York City loft.
"Thea doesn't really like decorators," admits Vassilakis, who serves as the in-house designer for Wyeth, Manhattan's go-to emporium for midcentury-modern furniture, and who handled the interiors for actor Richard Gere's Long Island, New York, home and his hotel, the Bedford Post Inn. "She contacted me and said, 'I just want to paint my walls white.' I told her, 'Okay, we'll paint the walls white, but it has to be the right white.'" Vassilakis got the job.

Architecturaldigest.com, Text by: Vicky Lowry, Photography by: Douglas Friedman

View more images here.