Ted Cohen's 50 Year Legacy of The Art of Display
November 11, 2015 Filed under: The Buzz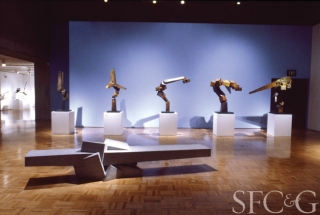 One of the Bay Area's most respected exhibition designers, Ted Cohen has been creating inspired museum, gallery and private art environments for more than 56 years. He has designed hundreds of shows for institutions across the country, from the Oakland Museum—where he was an in-house exhibition designer for more than 26 years—to the Museum of Contemporary Crafts (now Museum of Arts and Design) in New York. In 2000, the American Craft Council named him an Honorary Fellow, a distinction awarded to those who have made an outstanding contribution to the crafts in America. Now, at age 87, Cohen is both an independent consultant and the exhibition designer at San Francisco's Museum of Craft and Design. "Ted's exhibition design is second to none," says Director JoAnn Edwards. "He dazzles us with his inimitable expertise, boundless energy, and unflappable nature." The Oakland native spoke with SFC&G about his history shaping some of the Bay Area's finest exhibitions.

How did you get started in the field?
I went to the California College of Arts and Crafts (now CCA) on the GI Bill; I wanted to be a painter—I was good, but I didn't think I was good enough. I had a friend who told me there was a job opening as a preparator at the Oakland Art Gallery (now Oakland Art Museum). Neither one of us knew what that was, but I went to take the required civil service exam, and I was hired. I did everything from sweep the floors to design the exhibitions. Then I became the senior preparator, and then exhibition designer.
Which exhibition would you consider your best?
I think it was the big "Forbidden City" (2000) show at the Oakland Museum. I worked in concert with another designer, Kaoru Kitagawa, from the museum's history department. It was very elaborate; we brought in sculptors to work on platforms, railings and barriers that we designed in Chinese style. We had 3,000–4,000 people lined up every day. One of the most rewarding, though, was a show on Arts and Crafts period artists Arthur and Lucia Mathews. Over the years, I did three exhibitions of their work—they were an extraordinary couple.
You've said that the Wayne Thiebaud retrospective at the Oakland Museum was one of your most dramatic.
I decided to do the walls all in black, and I'd never used that color before. The curator at the time, George Neuberg, almost had a heart attack! It emphasized the edges in his work of that period, and I did his signature in neon—huge, stretching eight feet—at the entrance.
You noted that "Hands Off: New Dutch Design at the Confluence of Technology & Craft" at the Museum of Craft and Design was the most complicated show you've ever worked on. How did you grapple with large-scale mixed media works?
The work itself was powerful, but I still wanted to give the space just a little bit of drama. There were few walls in the exhibition, so we did one in bright red—in front of Kiss Machine Unite #02—and one in lavender. I try not to take away from the objects; they have to be first and foremost.
Finally, where would you still love to design an exhibition?
I'd love to design a show at SFMOMA, or the Met!

Article by SFC&G
San Francisco Cottages and Gardens
By Alisa Carroll and Sharon King Hoge | Photographs by Matthew Millman and Aubrie Pick