Smart Arts: SF's Classic Cultural Institutions Get Hip to the Next Generation
February 28, 2016 Filed under: The Buzz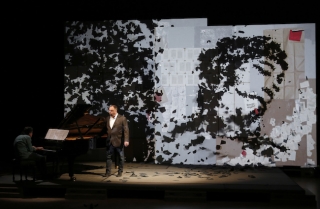 San Francisco's most venerated arts establishments are connecting with the next generation of audiences through modern, electrified programming, interactive events, and plenty of booze.
If you were to take your little black dress or your best suit out for a Saturday-night date at one San Francisco's most venerable arts institutions—we're talking the opera and the theatuh—you will most likely find yourself sipping chardonnay amongst the over-50 set. Which is great if you are (a) over 50, (b) strategically steering clear of local millenials, or (c) just really like the opera and the theatuh. But what does it mean for the millenials and the young-at-heart who have sophisticated tastes in art but crave a more modern way to engage? And what does it mean for our hallowed cultural institutions whose lifeblood is the audience, and whose future success absolutely relies upon capturing the next generation of fans?
In San Francisco, a city that seems to get younger by the day, it means that artistic companies, some of them established more than a century ago, must dust off their marketing and programming strategies and get with the ubiquitous buzzwords of the day: Disrupt. Connect. Experience. Inclusive. And we have to hand it to them—the city's most celebrated stages are rising to the challenge. In the past year alone, the stately halls of the Civic Center and downtown Theater District have made a real effort in reaching out by fully reinventing the way we experience their art forms.
Suddenly pop-up performances, hyper-modern lounge settings, cocktail bars, and chilled-out dress codes are de rigueur in houses once best known for their posh society galas. Some have even gone as far as to encourage use of social media during performances through the use of hashtags—a thing that would be considered sacrilege in the main house. But guess what? It's working. See how four of San Francisco's most beloved cultural establishments are getting hip to the next generation. Read full article
By David Lytle
7x7.com