Service Included
November 13, 2012 Filed under: The Buzz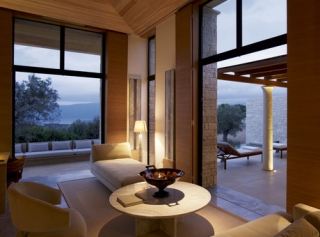 Luxury residential developers and five-star hotel brands are collaborating on full-service homes across the globe.
"The Ritz is my home", Coco Chanel once declared. The fashion guru lived 37 years of her remarkable life in five-star luxury at Paris's chicest hotel with a view of Place Vendôme and incomparable 24-hour service. She wasn't alone: Sarah Bernhardt and whisky baron Sir Thomas Dewar resided at London's Savoy, the Vanderbilts at the New York Plaza. All as lessees.
These days it's not only the famous or eccentric who enjoy the year-round services of an elite hotel. Property developers are partnering with luxury hotels in major cities and holiday locations alike to create residences where owners can, say, have a cheeseburger delivered on silver at any hour of the day (as did Elvis Presley at the Beverly Wilshire) – but actually own their slice of hotel life, and be free to decorate and furnish their hotel-branded homes as they please.
For the hotel companies and developers it's win-win. Hotels get their brand marketed throughout the lengthy property sales and marketing process, while gaining extra income from selling their brand licence to developers. They also have a built-in clientele paying towards the hotel communal facilities, who spend money in its bars, spas and eateries. Developers get the stamp of approval from prestige brands, which helps to push their sales, without the outlay on leisure facilities, as these are built and offered by the hotel.
And what do home buyers get from this business synergy? David Forbes, head of Savills Private Office, says: "The days when people were fighting over crumbling villas in Tuscany, or wonderful promontory sights in Bali, where they could build a villa and it would be theirs and theirs alone, are waning. More and more, people are looking for gated communities where they have 24-hour security." At the top of the tree, he notes, is One Hyde Park with the ultimate Mandarin Oriental branded residences, offering 24-hour service and 68 staff for the 86 apartments, including 14 penthouses. Despite annual service charges reaching about £250,000 – and Mandarin Oriental prices for every additional service – Forbes notes that, for some, that outlay is the trade-off for not having to worry about staff and maintenance.
According to research by Dan August Cordeiro, project director at Maxmakers, a property development advisory firm for mixed-use real-estate projects, the number of hotels offering branded residences has increased tenfold over the past decade; in 2003 there were just 12, while 114 are due to open by the end of 2012. Developments involving hotels and residences come in many guises; multi-destination clubs (that allow access to properties for a limited time and with flexibility to change destination), extended stay (self-catering, furnished hotel-apartments rented for a few weeks or months), fractional ownership (a fraction of a property that is bought for use for a specific amount of time annually) or hotel condos (a hotel room, suite or villa is bought, plus hotel furniture, and rented out for hotel usage for a specified time each year). Cordeiro emphasises the importance for buyers to recognise the different concepts: "The term 'hotel-branded residence' is rather vague. Industry professionals generally agree it refers to what we would call whole ownership – for-sale residences that carry the brand of the hotel at the time of sale and without a property-wide mandatory rental programme. The most prevalent with actual operating projects in this form are the Four Seasons, Kempinski, Ritz Carlton, W Hotels and St Regis."
Mandarin Oriental has launched a project in Turkey, on the north side of the Bodrum peninsula at Paradise Bay. Due to open in 2014, it will have an 82-room, 20-suite hotel, allied to which are 98 private villas (from 560sq m to 760sq m, from €3.25m) and 116 apartments (from 204sq m to 396sq m, from about €1.2m). The residences feature glass façades and sundecks, with chic restaurants and shops, housekeeping and car valet. In addition to the full spectrum of the brand's legendary service, optional extras include yacht moorings and a private chef and servers.
The concept of hotel-branded residences began in the US and Asia in the mid-1980s, when Four Seasons sold lodgings at its Boston Hotel, and Amanresorts introduced Amanpuri in Thailand, a hotel with 40 rooms and 30 villa homes. The two remain prominent players in the market: in 2014, Amanresorts will open Amanoca on Brazil's Costa Verde, 120km south of Rio de Janeiro. There will be 19 ocean-front villas (from $6m) for sale alongside the 23-room hotel; the spa is expected to elicit much competition among local buyers unused to a level of offerings taken for granted in Europe.
Meanwhile, the Amanzoe in the Greek Peloponnese at Porto Heli opened in July. Designed by Amanresorts' principal architect, Ed Tuttle, it comprises 38 hotel pavilions and 33 private villas set among the olive- and carob-tree covered hillsides. Residences are built of Sinai pearl marble and white stone, with 25m x 8m green-marble pools; most have near-360-degree views over the Arcadian Aegean. They range from 350sq m to 800sq m (priced from €3m to €6m), on sizeable plots (from 4,000sq m to 10,000sq m) to ensure the privacy for which Aman is renowned; owners have some freedom to adapt layouts and the position of the villa on their chosen plot.
Norwegian entrepreneur Nils Johan Pedersen was on the lookout for a holiday home and snapped up a four-bedroom, 700sq m plot. He cites as his motivation the brand's reputation, the villa itself and the site. "I don't like over-touristic places. This is a beautiful location which Greeks visit," explains Pedersen. "I needed a serviced villa. Aman has a reputation for excellent service and it has a lot of facilities I find useful. Plus, you're part of a community so you're not too alone in your house. You walk five minutes and you're at the hotel, where there's something always happening." A residence such as Pedersen's has annual service charges of €50,000-€60,000.
The Amanzoe owner's privileges start from the moment he or she touches down at Athens airport, from where the resort's chauffer-driven limousine collects them for the two-hour drive (alternatively there's a 25-minute spin in the VIP helicopter, at cost price). A quick call to the concierge to book the Wally boat ensures a dynamic day trip across to Spetses Island. There is also a fully equipped sports centre and yoga studio available to owners as well as guests.
Chedi is a hotel brand that's arguably more familiar in Asia, but at the end of next year it will make its debut in Europe – in Andermatt, 100km south of Zurich. It will be at the centre of a 1.4m sq m development by Orascom Development Holding, which will also include luxury and middle-range hotels and holiday apartments with a leisure infrastructure. The Chedi Andermatt will be a central highlight in the old village – a 50-room hotel and 119 roomy residential units, ranging from a 95sq m one-bedroom apartment (from about £1.1m, fully furnished) to a cavernous 621sq m penthouse (about £9.5m, shell only), with a 14m-wide glass façade wall. Interiors are a contemporary fusion of Alpine-style dark timber and Chedi's Asian flair. Facilities include a cigar room, wine library and cheese-tasting area, while a fitness centre and spa with sleek indoor-outdoor pool borders an ice rink.
The Chedi Andermatt also offers a fully furnished apartment option (for one and two bedrooms), enabling owners to enter a rental pool – an agreement with the hotel to make the units available for rent, then sharing in the proceeds regardless of which units are let out. However, in this scheme owners must adapt and furnish their unit in the hotel's style. While some buyers may be put off by this restriction, others – particularly those who see their property as a holiday home – could be tempted by the thought that the proceeds will help fund the approximate £66 per sq m annual maintenance charge.
As well as such hefty annual fees, hotel-branded homes also carry a pricing premium, estimated by Cordeiro as anything from 10 to 50 per cent, depending on the location. "Buyers of hotel-branded residences are willing to pay for the best locations, with the most fabulous design and highest quality management. Then you have all the services and facilities. Highly trained staff treat homeowners just like hotel guests. And there is the expectation that these properties will appreciate more than the rest of the market," explains Cordeiro, who adds: "And it doesn't hurt that people can say, 'I live at the Four Seasons.'"
If they purchase a residence at the Palazzo Tornabuoni in Florence, in a very real sense they will. A c15th-century Renaissance palace with original frescos, stucco detailing and marble fireplaces in the city's historic centre – a 20-minute stroll from the Four Seasons Florence, which administers it – it was variously home to Pope Leo XI and members of the Medici family. Launched off-plan in 2008 after a four-year restoration, private apartments from 50sq m (starting at €975,000) to 230sq m (from €5m) are for sale. The annual Four Seasons service bill ranges from €14,000 to €35,000, in return for which residents can enjoy use of the outdoor pool, spa, gardens and other facilities at the hotel. On the reception floor of the Palazzo itself there is a fitness centre and spa, cigar room, bar and lounge-library with a leafy terrace where breakfast is laid out every morning. And of course, there are Four Seasons staff on call around the clock. The airport shuttle is free, but laundry, grocery delivery, valet parking and childcare come as extra.
James Price, partner at Knight Frank, believes Four Seasons "sits at the top of the pile", justifying the 10 per cent insignia price hike he estimates Tornabuoni's apartments accrue. He adds that the mark-up for hotel residences in less established spots can be a lot higher: "We sold some units at a Four Seasons development in Marrakech when it was becoming fashionable five or six years ago, which definitely drove a 30 to 40 per cent premium to the market there."
Giles Hannah, senior vice president of Christie's International Real Estate, estimates that buying "label" adds around 20 per cent to the price of a property, due to "five key elements: services, architecture, interior design, security and facilities. On top of those, you have the brand itself."
By way of illustration, at Swiss Development Group's Du Parc Kempinski Private Residences on Switzerland's Vaud, a Rolls-Royce Phantom glides owners to and from the airport, a 650sq m Givenchy spa can soothe them on arrival, a Davidoff Cigar Connoisseur's Lounge offers an alternative form of relaxation, while Quintessentially wine cellars supply the table – all thoughtfully provided by Rockefeller Living, the Du Parc homeowner's club.
The 1907 Belle Epoque landmark building is set in parklands among the Unesco vineyards of Lavaux, overlooking Lake Geneva, and is a five-minute walk from the Le Mirador Kempinski Hotel. Sales launched in spring 2010; of the 24 residences, 11 are still available ranging from 200sq m to 690sq m (starting at about £4.1m); three 500sq m to 700sq m penthouses (£14.5m to £16.4m) are yet to be released. Service charges are 0.8 per cent of the purchase price.
Further south in the Valais region, in Leukerbad -– where the mountain's thermal waters have bubbled at 51 degrees since Roman times -– SDG is also working with Kempinski on 51 Degrees Spa Residences, due to open in winter 2013-14. Designed by Michael Graves, and echoing North American "parkitecture", with a retro/contemporary blend of stone and timber, there will be 28 residential apartments from 125sq m to about 230sq m (from £1.9m) available.
The 800sq m hotel spa will have 200 treatments on its menu, and plans for a possible two private spa-suites, which can be rented by the hour, along with dining facilities and a children's play area. But for a quiet night in, what could be more wonderful than to retreat to one's own wraparound terraces with open fires and "moon baths", in which one can heal in one's personal supply of thermal waters, against a backdrop of the Daubenhorn?

September 21 2012
Sue Chester
http://howtospendit.ft.com/property/8961-service-included