San Francisco's Resident Frenchman
March 01, 2013 Filed under: The Buzz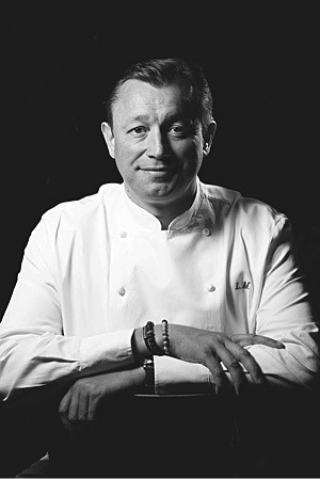 Nob Hill Gazette
Growing up in the small Gascon village of Roques in France, Laurent Manrique developed a love of cooking from his grandparents. He has turned that early passion into becoming one of the most lauded chefs on both U.S. coasts.

Manrique has earned top ratings at New York City's renowned Le Grand Comptoir, Waldorf Astoria's Peacock Alley, and Gertrude's, but it seems San Francisco is where his heart is—where he has delivered top rankings at Campton Place and Aqua. He owns Café de la Presse, a renowned Parisian-inspired bistro that is now a San Francisco landmark, and Blanc et Rouge and Rouge et Blanc, two stylish wine bars downtown.

He travels between the two coasts often, as Manrique also owns Millésime in New York, an upscale seafood brasserie in the historic Carlton Hotel. And his wine bar empire is growing, with new openings slated for this year, in both San Francisco and New York.
Manrique has called San Francisco home for the past 14 years, but had it not been for a late-night call from a close friend, the prominent restaurateur would probably be preparing his signature pot-au-feu back in France.

Nob Hill Gazette: Tell us about that call. How did it lead to San Francisco, and what made you stay?
Laurent Manrique: It was 1999 and, at the time, I had spent the last ten years in Manhattan and was in the process of moving back to Europe. My friend persuaded me to come to San Francisco first, and when I arrived, I felt a connection that I never had while living in New York.

NHG: Can you elaborate?

LM: Roques, where I grew up, is similar to this city—it's surrounded by the ocean on the west side, the wine country on the north—so the natural aspect was attractive to me. I had to make a decision very quickly if I was going to stay. Campton Place Hotel was looking for an executive chef, and I met with the ownership the week of my first visit. I made the decision to postpone going back to Europe and moved from New York to begin working there.

NHG: Back then, the culinary landscape here wasn't very French. What were your early days in the city like? Did you feel a little like a fish out of water?

LM: I did at the beginning, of course. I always give myself at least two years to understand a community. San Franciscans are very nice, and I never felt uncomfortable when walking in the city. The customers look you in the eye, people talk to you when you're walking through the farmers market; it was quite a different experience from New York. San Francisco is unique, with open minds and a love of bread, food, and wine. I really fell in love with it all, and I'm a San Franciscan now.

NHG: Take us back to when your love of food first started and tell us what inspired you to pursue the culinary arts as a career.

LM: The village I grew up in was very small, just 28 people, so it was tiny. It had one school, one church, and my grandparents ran the café and inn. I was fortunate enough to do my homework in the surroundings of the kitchen, and the smell of the food seemed to reach me in a deep way. I discovered the old style, and it made a connection. The rest of my family wasn't into food at all, aside from my grandparents, but I wanted to work with food from the time I was 14 years old. I still, to this day, really enjoy—whenever I have a bad day—going back to my house and cooking some meat for the whole family.

NHG: After leaving Aqua, you opened Café de la Presse, then Blanc et Rouge and Rouge et Blanc. You have another wine bar, Aquitaine, set to open this spring. What drives you to open new eateries—especially the smaller wine bar concept?

LM: After Aqua, I decided to go with a totally different agenda and not do fine dining, but explore the wine bars more. I think wine bars draw a very interesting clientele. These customers love food, love wine, and they are very respectful of French cuisine. I make my own wine, and I thought, "Why not?" With any new [venue], I love the creative part of the design, the collaboration with the chef to create a winning menu, developing a complementary wine list, fine tuning the décor, and things like that. After all of these aspects are complete, running the restaurant becomes a headache. It's not as much fun as you might think.

NHG: I guess that's the reason why you continue to open new establishments! Tell us a little about Aquitaine and how it will be different.

LM: Aquitaine is the name of a bridge in western France. The eatery will feature wines from the grapes of that region, paired with a lot of the foods from the imagination of southwestern France. Something other than just cheese and charcuterie—dishes from Gascony, such as cassoulet and confit de canard. I don't want to do tapas because that is Spanish, so we will do French small plates, and it will be very casual. It will be a place where people can enjoy some authentic food and have a lively experience.
Nob Hill Gazette
by Keith Loria