San Francisco's Most Intoxicating Gourmet Tea Houses
July 06, 2016 Filed under: The Buzz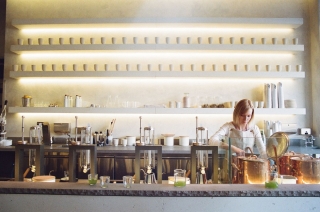 While quick-and-easy boba tea seems to be the tea drink of choice these day, this list of classic and gourmet tea houses focuses on more sophisticated experiences: house blends and dynamically sourced leaves among them.
T-We
T-We is more than just a place to grab a cup of tea, it's a rich and distinctive tea-drinking experience that includes great conversation from the guys behind the tea house. This charming shop stocks handcrafted teas with witty names such as Madame Morocco, Grumpy Dinosaur, Babymaker, Sexpot, Lesbi Friends, and more. Be sure not to miss T-We's monthly kiki cocktail party and tea events! // Crocker Galleria, 50 Post St. Level 1 (FiDi), t-wetea.co
We Recommend: Grumpy Dinosaur, a herbal mint tea perfect for bringing you out of the dumps.
Yerba Buena Tea Co.
Yerba Buena Tea Co., formerly known as Tea Smiths, sells artisanally crafted green, white, herbal, black, and yerba mate teas in loose-leaf form or by the cup. Check out their bestsellers: Slim Mint contains hojicha green tea and dandelion to promote weight loss and immunity strength. The Tumeric Lemon Ginger helps circulation and inflammation. // ybtco.com
We Recommend: Golden Gate Green, an earthy green tea with notes of lemongrass, orange peel and a hint of ginger—perfect for a quick a pick-me-up.
Asha Tea House
Asha Tea House is a Berkeley favorite. 'Asha' is Taiwanese for "someone who enjoys life," so taking a break here to enjoy traditional tea served hot, cold, and with or without boba seems like a logical decision. Make sure you check out their second location in downtown San Francisco. // 2086 University Ave. (Berkeley) & 17 Kearny St. (FiDi), ashateahouse.com
We Recommend: Asian Pear Oolong, a sweet delicate tea paired with fresh seasonal fruit puree perfect for warm summer days in the East Bay.
Red Blossom Tea Company
In the heart of Chinatown, Red Blossom Tea Company stocks rare teas and artisan teaware. The shop prides itself on educating its patrons. Like crops, teas are seasonal, and to ensure the best quality teas for their customers, Red Blossom Tea Company sources green, white, and oolong teas throughout the year from Fujian, Anhui, Zhejiang, and Taiwan. // 831 Grant Ave. (FiDi), redblossomtea.com
We Recommend: Lychee Black, a mild, sweet black tea infused with lychee. Served best warm on cool foggy days.

Song Tea & Ceramics
Song Tea & Ceramics provides impeccable teas picked at the their peak. This creates oolong teas with a more intense flavor, white teas that impart lovely floral notes, and red teas that are redolent of honey. // 2120 Sutter St. (Lower Pac Heights), songtea.com
We Recommend: Buddha's Hand, an oolong with complex chocolate and malted notes.
Chai Bar by David Rio
Calling all chai lovers: The Chai Bar by David Rio features teas with varying levels of spiciness and sweetness, featuring combinations made with Madagascar vanilla, pressed ginger, matcha, or dark cocoa. The cozy ambiance of the bar pairs well with the tea. // 1019 Market St. (Mid-Market), chaibarsf.com
We Recommend: Tortoise Green Tea Chai, a warm chai blended with cardamom, cinnamon, and then infused with matcha green tea.
Samovar Tea Lounge
Samovar Tea Lounge, a favorite among Bay Area tea enthusiasts, offers a small tea collection curated from around the world, from England to Japan to Morocco. Check out the two locations in San Francisco. // 730 Howard St. (SoMa) and 411 Valencia St. (Mission), samovartea.com
We Recommend: California Rose, a black tea with cardamom, orange peel, rose petals, and jasmine.