Malin Giddings Named No. 1 Agent in Northern California
March 05, 2013 Filed under: The Buzz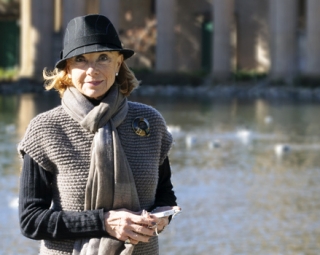 Malin Giddings Named No. 1 Agent in Northern California For Coldwell Banker Residential Brokerage
SAN FRANCISCO, Calif. – March 1, 2013 – Coldwell Banker Residential Brokerage, the Bay Area's leading real estate services company, announced today that renowned San Francisco Realtor Malin Giddings ranked as the top agent for Coldwell Banker Residential Brokerage in Northern California and third in North America for sales last year.
Giddings, who works in Coldwell Banker Residential Brokerage's Van Ness Avenue office, sold an astounding $205 million in San Francisco real estate in 2012, surpassing more than 3,600 company agents from the Monterey Peninsula to Lake Tahoe and some 83,000 agents in North America in sales.
During her nearly 40-year career, Giddings has sold in excess of $3 billion worth of the finest homes in the city and earned a sterling reputation for being San Francisco's preeminent luxury Realtor. She has been featured in publications such from The Wall Street Journal to Haute Living. Unique Homes named her among the 35 most influential people in luxury real estate, joining Jack Nicklaus and Ben Bernanke.
"Malin is in a class all by herself when it comes to luxury real estate in San Francisco," said Rick Turley, president of Coldwell Banker Residential Brokerage. "She really is the go-to Realtor for the movers and shakers of the business and tech world because of her tremendous expertise, her unique connections to the best buyers and sellers and her incredible service. We're thrilled she's on our team."
Born in Stockholm, Giddings was exposed to an international lifestyle from a very early age as the daughter of a Swedish diplomat and president of the Nobel Foundation. She first visited San Francisco in the late 1960s and fell in love with the city, where she has lived ever since. She launched her real estate career in 1974 and has focused exclusively on the finest locations in the north side of town.
During a recent interview, San Francisco's most renowned Realtor talked about her career, the luxury market, working with high-end buyers and sellers, and how things have changed over the years:
Q. How is the luxury market today in San Francisco?
It's doing extremely well. We're very lucky because the demographics in San Francisco are such that we have high demand for really good properties. There's a tremendous demand for views, but the views aren't as good in SF as the public thinks they are, so it's really hard to meet people's expectations for views. One change I've noticed is that people are looking more for contemporary houses, and that really doesn't exist on the north side. If I had enough contemporary houses, I could sell one a day right now.
Q. Who are your clients?
My clients are typically investment bankers, high-tech startup people and venture capitalists.
With this clientele, confidentiality is a big part of working with them. Last year in particular, there were a tremendous number of private transactions that I did under the radar. The market was just coming out of a bad time and there were a lot of sellers who were afraid to put their homes on the market. They just told me to bring an offer if I had a good fit. And I had a lot of good buyers who were a good fit and more than qualified to make the purchase.
Q. How do you find your buyers?
You can do a lot to find clients, but it is referrals that are most important. References outperform any other way of getting clients. Lately I've had an awful lot of the younger generation referred to me. I'm so fortunate because they become very close to me. In a way the fact that I'm older is really working in my favor because the younger generation...they listen to me. They are smarter, unbelievably quick learners, incredible in their fields. When they get to know me it's easier to listen to my advice than someone their own age.
Q. Is it different working with younger, highly successful clients?
They are extremely busy and want to see everything online. The information age has changed my business tremendously and for the better. The really good buyers in SF, 100% of them go online before they see the property. They are very active in their searches. They are right there, looking online and want instant information and instant gradification. They are very responsive people. All of them are wonderful young people. But it's hard to get in front of them. Their time's very limited and they're very private.
Q. What makes a successful luxury agent?
All of my career I have focused on location, location, location. Every other agent goes where the wind blows. They may represent a place South of Market, a high-rise downtown or a home in Noe Valley. I do one area only - north of California Street, the traditional luxury real estate in San Francisco. So after nearly 40 years of doing that it brings a tremendous amount of knowledge about the market, knowledge that people want and deserve when they're buying or selling.
Q. How is marketing a very high-end home different?
I should stress that not all my transactions are very high end. My focus is not just on the top end of the market. As long as it's the right location, I will sell a garage. Representing a property is just as important if it's not high-end. For the people with a $2 million condo to sell, the dollar amount probably means more to them than the people selling a $10 million home. So it's very important that you have the emotion and the interest to maximize the sale at any level.
Q. What does service mean to you?
You have to have tremendous patience and understanding. It's very important to be there emotionally for them. You get to know the client and then you know what they need from you. I don't think of the sale - I can't. I think of the service. I worked with one young man looking for a property for 10 years before he got something that was the right fit for him. He (Nirav Tolia) ended up learning so much about real estate, he started a related business – Nextdoor.com. A woman who bought one of my listings was relocating to the area and didn't know the neighborhood. I gave her a book with all the services in the area – everything that's important and would make her life easier – and added my personal comments to each business. This lady was so grateful - and I wasn't even her agent. Of course she would refer me business.
Q. What are your relationships with clients like?
I really look at my clients as a lifelong relationship, but it's sometimes hard when we actually finish a transaction. At any one time I may have 10 clients I work with. As I finish the sale, they move onto other things in their lives. But for me, it is like losing a friend. For a couple of weeks - you miss them. You have been so involved in their lives and their problems and trying to solve them, that you really miss them.
Q. Any plans for retirement?
I think I would be crazy to retire. Now is the time that I really feel I'm bringing something to the table and have learned my craft. Hopefully I'm a better communicator than before. This year, I'm going to support the younger generation with enthusiasm and energy to succeed in whatever they're doing.
Giddings can be reached at Coldwell Banker Residential Brokerage, 1699 Van Ness Avenue in San Francisco, by phone at 415.229.1211 or via email at malin@sfproperties.com. Her website is www.sfproperties.com.
About Coldwell Banker Residential Brokerage
Coldwell Banker Residential Brokerage is the largest residential real estate brokerage in Northern California and serves the markets from Monterey to Tahoe and nearly every market in between. The company has 62 office locations and more than 3,600 sales associates throughout Northern California. Last year the company handled 13.5% of all dollar volume sold in Northern California, more than double its nearest competitor. Through its internationally renowned Coldwell Banker Previews® program, Coldwell Banker leads the luxury home market in Northern California, representing more than 22% of all dollar volume sold of properties over $1 million. Coldwell Banker Residential Brokerage is part of NRT LLC, the nation's largest residential real estate brokerage company. NRT has 725 offices and 41,500 sales associates operating in more than 35 major metropolitan areas. A subsidiary of Realogy Holdings Corp. (NYSE: RLGY), NRT operates Realogy's company-owned real estate brokerage offices. For more information please visit www.CaliforniaMoves.com or call 925.275.3085. DRE #01908304.
FOR MORE INFORMATION:
Steve Maita
Maita Communications for
Coldwell Banker Residential Brokerage
425.827.5577
news@maita-pr.com