January Agenda
January 06, 2016 Filed under: The Buzz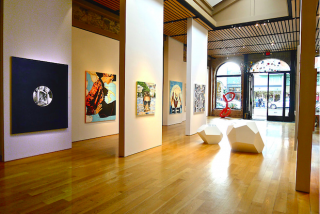 The Agenda: Ryan Jones' "Slivers of Reality" and Fog Design + Art Fair
Exhibit -"Slivers of Reality"
Stanford graduate and Bay Area resident Ryan Jones rings in the new year with his first big art exhibit at downtown San Francisco's prestigious Caldwell Snyder Gallery. Fantasy meets a moody film noir vibe in his latest series of arresting paintings that combine geometric forms with bold colors and bodacious babes. Chances are this won't be the first time you've seen this artist's work—he's worked with Lucasfilm, and his art has been featured in Entertainment Weekly and Wired. Mark your calendar for the artist meet-and-greet on opening night. And check out Ryan Jones' website before you go.

When: Thurs. 1/7–Sun. 1/31; artist reception 5:30 - 7:30 p.m., Thurs. 1/7
Where: Caldwell Snyder Gallery, 341 Sutter St., San Francisco

Reception - Design Lab
Five times a year, designLAB galleries at PDC keep their doors open late and invite the public to mingle with artists and designers in their working environments. Use the time to explore design as a direct extension of art that spans a mix of media—from photography and film to sculpture and architecture.
When: 5 - 9:30 p.m., Fri. 1/22
Where: Pacific Design Center, Blue Building lobby and 2nd floor, 8687 Melrose Ave., Los Angeles

Restaurant Design - Workshop Kitchen + Bar
Earlier this year, the restaurant in the historic El Paseo Building in the Uptown Palm Springs Design District, took home a James Beard Award for outstanding design in the rare confluence of food and furnishings. The honor for NYC-based firm SOMA Architects is the first for a Palm Springs venue. It's a study in refined minimalism, with large monolithic concrete booths and a large communal dining table, dimly lit with custom pieces from Beirut-based PS-Lab—a true shrine to fine dining.
When: 5 - 11 p.m., Monday–Thursday; 5 p.m. - midnight, Friday–Saturday; 10 a.m. - 2:30 p.m. and 5 - 11 p.m., Sunday
Where: 800 N. Palm Canyon Dr., Palm Springs
Fair - Fog Art + Design
Jumpstart the year by perusing the selection of work at the annual FOG fair, a showcase of what's trending in contemporary art and design. After touring the galleries, sit down for one of the fair's panel discussions—like Deconstructing Design, a peek inside the new SFMOMA with SFMOMA associate curator of architecture and design Joseph Becker—plus a Saturday afternoon screening of Peggy Guggenheim: Art Addict.
When: Thurs. 1/14–Sun. 1/17
Where: Fort Mason Festival Pavilion, Buchanan St. and Marina Blvd., San Francisco
Exhibit - "Looking In, Looking Out: Latin American Photography"
Pulled from the museum's permanent collection, this show gives non-natives and non-residents an insider, even voyeuristic at times, view of life throughout Latin America. Pieces in the exhibit—through the lenses of nostalgia, propaganda, and iconography—showcase diverse yet strikingly similar traditions across a variety of cultures, looking to both the past and the present to inform the future of this region.
When: Through Sun. 3/20
Where: Santa Barbara Museum of Art, 1130 State St., Santa Barbara

By Allison McCarthy / 01/05/16
californiahomedesign.com