Into the Woods
February 11, 2016 Filed under: The Buzz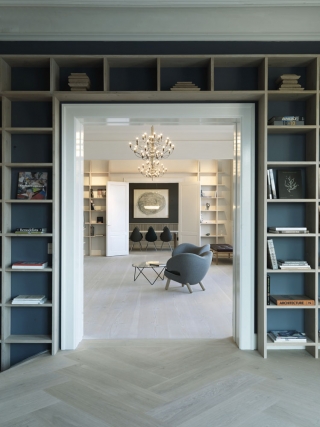 Danish wood-flooring company Dinesen's new showroom in Copenhagen exhibits the versatility of its chosen material.
No matter how lovely the ground beneath your feet, "you don't exactly go down and touch the flooring," says Thomas Lykke of Danish design studio OeO. Yet, he points out, when the same material that lines the floors in luxuriously long planks also rises up to wrap the walls in slim cladding or hangs from the ceiling in a wave of sticks, it creates a "coherent universe, and people relate to the material dif-ferently." This is the concept that Lykke brought to the 117-year-old wood-flooring company Dinesen for its Copenhagen showroom in a 19th-century building in the heart of the city.
The fifth generation of the family still works with wood, and Dinesen saw its newest showroom as an opportunity to communicate its commitment to and respect for its chosen material. "One of the important things is that we source our own wood," says Birgitta Murga Thomsen, brand and marketing director at Dinesen. "We go to the forest and buy our own tree, a Douglas fir that may have stood for 60 to 80 years and oak that may be 250 years old. We are obliged not to waste any part of it."
The team split the 6,458-square-foot space into two concepts. One is a sparse, experimental atelier-like space called "Tree of a Kind." The centerpiece is a magnificent 49-foot-long dining table made of uninterrupted pale Douglas fir surrounded by oak stools in light and dark stains. A canopy of wood makes for a snug enclosure, while hints of the industrial origin of the building peep through. At the far end is a gridded wall created from unevenly mounted blocks of wood, each bearing its own scars. "We call it the Wall of Imperfection," says Lykke. "It's natural for a tree to have knots. The idea was to use parts of the material that you normally wouldn't."
The other half of the showroom, named "Extraordinary by Nature," is an experiential setting of an apartment with a living room, dining room, library, wine cellar, and kitchen. Dark hues on the walls—inspired by Danish artist Vilhelm Hammershøi's color palette—contrast with the pale woodwork. The space is furnished with the best of Danish design: Finn Juhl's Pelican chair in the living room, Fritz Hansen's Ro chair by Spanish designer Jaime Hayon next to a deep burgundy Mayor sofa by Arne Jacobsen and Flemming Lassen in the library, and Drop chairs, also by Arne Jacobsen, in the dining room.
In one darkened vaulted corner of the showroom is a four-year-old Douglas fir preserved in resin, displayed on top of a pedestal and illuminated as an antique or a rare specimen would be in a museum. It's a poetic reminder that those strong, imposing wood planks began as a delicate sapling like this. There is a suggestion of life and growth and change. In a spiritual George Nakashima way—his influential 1981 book, The Soul of a Tree (Kodansha USA), talks about the "divinity in objects that are made of natural materials"—Dinesen's space solicits respect for trees even as they are cut down and used to build our lives.

Full Article Metropolis Magazine
by: Komal Sharma