Holiday shopping at our favorite San Francisco boutiques!
November 27, 2012 Filed under: The Buzz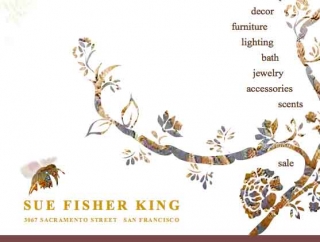 The holiday season has arrived and we are gearing up, headed to our favorite San Francisco boutiques! Below are a few of our favorite hot spots, best of the best for holiday shopping!
Sue Fisher King
Smashing home decor
Love the creative website!
Home Décor, colorful accessories, delicious textures, gift wrapping to die for. SFK has been part of the San Francisco community for 33 years.

http://www.suefisherking.com/
3067 Sacramento Street
San Francisco, CA 94115
415.922.7276

---
Brit.Co
Wow what can we say about this incredibly creative young lady.
Martha Stewart "mini me" with a tech twist.
Brit.Co website is packed full of do-it-yourself creative ideas and goodies but our favorite this week is 40 ideas for a non-traditional Christmas Tree! Have a spare wall? Chalkboard? Books? Extra wine corks? All fair game for a creative inventive Christmas tree.

http://www.brit.co/creative-christmas-trees/
http://www.brit.co/

---
Couture Uomo
European Men's Clothing
David Yahid is founder and all around great guy! His customer service and attention to detail can't be beat. Best custom and ready made clothier in town. Dress to impress, David is the best!

http://coutureuomo.com
395 Sutter Street
San Francisco, CA 94108
415.781.6915

---
Union Street Goldsmith
Fine Jewelry, youthful timeless designs. Terry Brumbaugh & Glenda Queen head up USG. Beautiful collections excellent service.

http://www.unionstreetgoldsmith.com
1909 Union Street, San Francisco, CA 94123
415.776.8048

---
ANTHEM
Luxury Home Furnishing & Timeless Interior Design
Fab home décor, ANTHEM adds an appreciation for details to modern design.
Located in Pacific Heights, ANTHEM appeals to the designer in all of us!

http://www.anthemsf.com/home.html
3274 Sacramento Street
San Francisco, CA 94115
415.440.6500
Now, off you go!