Holiday shopping at three of our favorite San Francisco boutiques
December 10, 2013 Filed under: The Buzz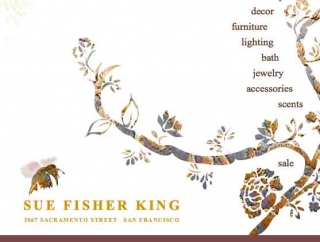 The holiday season is here and we are headed to our favorite San Francisco boutiques! Below are a few of our favorite hot spots, best of the best for holiday shopping.
Sue Fisher King
Smashing home decor
Love the creative website!
Home Décor, colorful accessories, delicious textures, gift wrapping to die for. SFK has been part of the San Francisco community for 33 years.
3067 Sacramento Street
San Francisco, CA 94115
415.922.7276
---
Dandelion
Great gifts & home decor, delights of living through great design, inspiring books, and tantalizing tastes.
dandelionsf.com

55 Potrero Avenue
San Francisco, CA 94103
Phone 415 436-9500
---
ANTHEM
Luxury Home Furnishing & Timeless Interior Design
Fab home décor, ANTHEM adds an appreciation for details to modern design.
Located in Pacific Heights, ANTHEM appeals to the designer in all of us!
3274 Sacramento Street
San Francisco, CA 94115
415.440.6500
---