Getting It Right
October 24, 2013 Filed under: The Buzz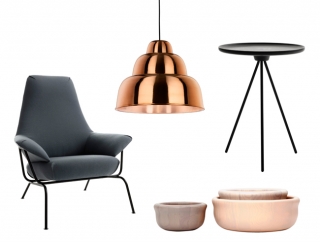 Emerging design entrepreneurs refine the art of finding and nurturing new work.
What makes a great furniture company or design shop? There's more to it than following trends—or even starting them. The best shops and companies feature curated collections that mix high and low, and bring new and relevant interpretations to reliable forms. Perhaps they incorporate craft without dismissing technology, or elevate luxury to a form of conceptual art. Maybe they design with an eye to the next generation, rather than just the next season. The people behind these brands and storefronts—some from design backgrounds, some not—tend to have a few things in common. They may wax philosophical about design, but they spend as much time with manufacturers and makers as with customers and critics. They give a lot of thought to the big picture, but they never stop sweating the details. Most of all, they excel at looking for talent, tirelessly and in unexpected places. Here are four important, up-and-coming companies that are getting it right.
To hear Jean-Baptiste Souletie tell it, you might think he and Louise Breguet opened La Chance on a passing whim. "We launched a furniture and lighting company so we could show the work of friends, and see more design that we like," he says. Scratch the surface, though, and it's clear that Souletie is passionate about materials, manufacturing, and the underlying vision of the La Chance brand. That vision includes a rejection of the cheap thrill: "You don't buy something that will be fun for two years, and then throw it out. Too much of design is disposable now." more...
Article by Metropolis Magazine