Generous Generations Rising
April 14, 2014 Filed under: The Buzz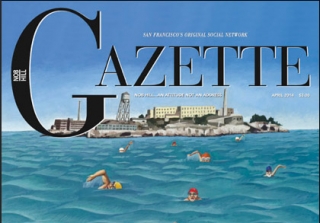 Fresh Faces Of Philanthropy
While bad news often seems to be the theme of the day, many observers are excited to note a new trend among the younger generations:
It's cool to be a philanthropist!
We're not just talking money. Philanthropy literally means a love of humanity—an altruistic concern for human welfare. And even though these caring citizens have all donated to various causes, money isn't how they define themselves.
They see philanthropy, in fact, mainly as a way of devoting their time, experience, and talents to benefit others.
Check out the Millennials, ages 28 and under:
"My original inspiration came from my grandmother, Helen Hilton Raiser," says Eliot Bacon, currently a freshman at William & Mary College in Williamsburg, Virginia. "She's active in so many causes. I observed her and asked questions.
"When I'm home, I work at Grace Cathedral making dinner for people coming out of homelessness and addictions. Last year, when I was 18, I donated my services teaching English and drama to students in India.
"My parents, Jennifer Raiser and Donald Bacon, instilled in me the importance of educating children. For community service in high school, I taught arts education to first graders in a school in the Mission. It convinced me that the arts are just as important to young people as math and reading.
Another Millennial, Sloane Lehman, graduated from Purdue University several years ago and now works as product coordinator at Airbnb, a global company that finds accommodations for travelers.
"When I was at Hamlin School," she recalls, "one of our volunteer projects was to work at the Hamilton Family Center, which helped provide housing for the homeless. I became involved with troubled kids, and that touched me, and inspired me to find other causes that help children with medical needs.
"The cause dearest to my heart is University of California, San Francisco's (UCSF) Partners-In-Care. We raise funds to support families who have loved ones in the Medical Center, as well as helping the patients themselves.
"Philanthropy is important to me because I know I can make a difference by committing my time, resources, and funds. I hope to lead my life by example—by becoming a role model to other young people."

Generation Xers, ages 29 to 44, speak out:
Schuyler Hudak heads up business development for the technology media company, Topix LLC, and she recalls that, "My mother's an attorney, and when I was growing up, she would take me with her whenever she did volunteer work. I learned about endless giving from her, and she continues to be my role model.
"In the last few years, I've been involved with the Junior League of San Francisco, the Marina Community Association, UCSF's Partners-in-Care, Compassion & Choices, and several others.
"I believe we all have the privilege and responsibility as good citizens to contribute in some way, whatever one's age or situation. My friends Jason and Matthew Goldman organized a group of young philanthropists, and others are starting to follow their lead.
"My heart really belongs to San Francisco General Hospital. It's the only level-one trauma center in the city and cares for more than 30 percent of our children. Working there and learning from such community leaders as Judy Guggenhime, Pam Baer, Connie Shanahan, Patrick Smith, and Lisa Hauswirth has been incredible!
Generation Xer Alec Perkins, portfolio manager at Perkins Investment Management, also grew up thinking that his mother, JaMel Perkins, "was involved in every women's issue under the sun. She was president of the local League of Women Voters, organized rallies in support of the Equal Rights Amendment, and later served as board chair at the San Francisco Education Fund... continued
Nobhill Gazette
April 2014
by Merla Zellerbach