Entertaining for the Holidays? Rent a Restaurant
November 11, 2014 Filed under: The Buzz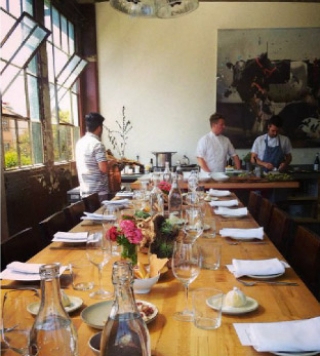 For most of us, November and December are the busiest months of the year. Besides obligations to our families and relatives, there are holiday office parties and, of course, entertaining our friends and clients.
Take the worry and stress out of planning these events by renting an entire restaurant for an evening or afternoon. The staff will work with you to design an appropriate menu, and will take care of all the other details, providing a worry-free experience. There are also many places that will rent private rooms for smaller groups.
Costs vary widely, but you can expect to pay an average of $5,000 to $15,000 for a private room, and from $25,000 to upwards of $80,000 for a full restaurant buyout.
PRESS CLUB
Located at 20 Yerba Buena Lane, Press Club has received numerous accolades for its chic, event-ready space, including two awards for "Best Restaurant Design" from the American Institute of Architects. Just two blocks from both Union Square and the Moscone Convention Center, Press Club's wine and beer list for events is one of the best the city has to offer, and the restaurant regularly hosts special winemaker tastings and dinners. Details can be found on its online event calendar.
With more than 9,000 square feet of space, Press Club can handle events of nearly any scope and size, from sit-down dinners for 20 to meet-and-greet happy hours for 50 to gala affairs for 350. There is even the possibility of adding a tent on Yerba Buena Lane—complete with a red carpet—to accommodate 500 or more guests. Chris Borges of Taste Catering oversees the restaurant's cuisine. Borges works closely with each client to create a custom set of dishes to meet their needs. For more information, please visit the private events area onpressclubsf.com.
QUINCE & COTOGNA
These sister restaurants, located at 470 and 490 Pacific Avenue in Jackson Square, are owned and headed by two-star Michelin chef Michael Tusk. Recently renovated by designer Douglas Durkin, Quince now features a stunning private entryway, an intimate champagne bar and lounge, two new private dining rooms, a renovated kitchen with chef's counter seating for two, and a new pair of private dining rooms that each seat a dozen for dinner.
There's also a main private dining room that can seat 18 for dinner or 30 at a standing reception. Quince is also available for buyouts, and can accommodate up to 80 for a seated dinner or 100 at a standing reception. It offers a highly curated fine-dining experience in one of the city's most beautiful restaurant spaces.
This latest remodel gave Cotogna its first private dining room, the Octavia Room. Responding to the nostalgia many guests feel for Quince's original location on Octavia Street, the Octavia Room is set within Cotogna's working kitchen, for an intimate and rustic dining experience for groups of up to 12. Cotogna is also available for buyouts, accommodating up to 50 for a seated dinner or up to 65 for a standing reception. For more information, contact Amanda Botelho at 415-775-8500 x31 or events@quincerestaurant.com.
SCHROEDER'S
For something a bit different with a fun, Teutonic theme, consider hosting your next holiday gathering at the newly reinvented Schroeder's restaurant, located at 240 Front Street. With 5,000 square feet of space, Schroeder's can host up to 150 guests for a seated dinner or 275 for a standing cocktail reception. Or you can book a private room for an intimate dinner for 12, or a happy hour for 20 or more. Many companies who book Schroeder's go with a biergarten-style event. Chef Manfred Wrembel has crafted an extensive menu of German classics using modern techniques and ingredients local to the Bay Area. Additional add-on options include live music, DJs and custom cocktails. For more information, contact the events team at 415-421-4778.
SALUMERIA
Located at 3000 20th Street, and attached to Central Kitchen, Salumeria is a neighborhood deli and larder founded by the owners of the famed Flour + Water. By day, it specializes in handcrafted artisan sandwiches, freshly made pasta, and house-cured charcuterie. At night, it turns into an intimate and rustic dining space and can accommodate up to 14 guests for a seated dinner or 25 at a standing reception. There is also another private room above Central Kitchen called The Upstairs, with large industrial windows overlooking 20th Street. The space can be configured for many different types of events and can handle up to 32 guests for dinner or 42 at a standing reception. The menus can be customized for each event. For more information, contact Brittany Blake at 415-826-7005 or events@netimeas.com.
BURRITT ROOM + TAVERN
Owned and operated by renowned chef Charlie Palmer, Burritt Room + Tavern is located in downtown SF inside the Mystic Hotel at 417 Stockton Street. The bar and adjoining 125-seat dining room—complete with private booths—has a film noir/speakeasy vibe. The bar can be rented separately, as can the main dining room, or the entire space can also be bought out for private events. For details contact Ashley Hamik at ahamik@charliepalmer.com.
James Stolich's cookwithjames.com provides regional Italian and Spanish dishes for all occasions. He has been featured in urbandaddy.com, agencyspy.com, and Jenn Garbee's intriguing book, Secret Suppers, about rogue chefs and their little-known culinary lives.

by James Stolich, Nob Hill Gazette