ELLE DECOR Goes to Coastal California
April 01, 2013 Filed under: The Buzz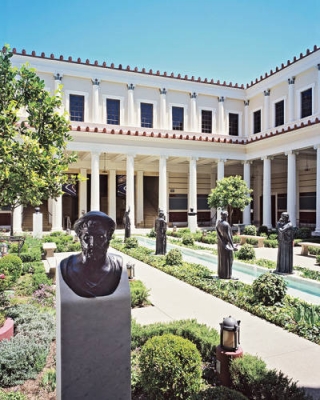 Historic gems, luxurious resorts, and storybook towns—from Malibu to Monterey
Winding from the modernist compounds of Malibu through the redwood rusticity of Big Sur to the Victorian inns on the Monterey Peninsula, there is a ribbon of blacktop so mythic that Californians simply call it "the One." Indeed, portions of California State Route 1 have been officially designated national scenic byways. Along the way, there are relics of the ancient Chumash tribe, 18th-century Spanish missions, and atmospheric vestiges of boomtowns built around the Golden State's earliest industries: fishing, ranching, mining, lumber, and agriculture. And, of course, monuments to 20th-century prosperity, none more lavish than William Randolph Hearst's castle in San Simeon.
"Driving on the 1, you see the breadth of California architecture and design from Spanish Colonial haciendas to Mediterranean villas to midcentury modern," says Roman Alonso of the Los Angeles design firm Commune, who cites the Big Sur aesthetic in his company's work. Traveling the coast also reveals the various sensibilities that have coalesced to become "California casual," a style shaped by indoor-outdoor living and generously scaled furnishings.
It's a 315-mile drive from Malibu to Monterey, and seeing just the highlights—Santa Barbara, San Simeon, Big Sur, and Carmel—can take a week. So some ground rules are essential: Rent a car with enough cargo space for the treasures you'll find at antiques stores. Stick to the main roads, and sleep where you can hear the sound of the ocean.
The Getty Villa in Pacific Palisades, just south of Malibu, is an ideal starting point. Oil baron J. Paul Getty began construction in the 1950s to house his extensive art collection; by 1974 his holdings required something far larger and grander—a villa and gardens based on the home of Julius Caesar's father-in-law. Staking a claim for classical significance in a community that's more famous as a movie colony, the Getty Villa is an impressive set piece—an authentic-looking Roman estate high above the contemporary homes on the beach.
Vintage shoppers have long flocked to Ventura's Main Street, where motorists park their 1950s rides in front of '50s diners, Mexican cantinas, thrift shops, and design stores. But it is Santa Barbara, with a well-regarded art museum and its own film festival, that is the cultural heart of the central coast. Red-roofed Spanish Colonial Revival architecture around the harbor justifies the town's self-proclaimed title of the American Riviera.
On the lavish 1909 estate known as Miraflores, the Music Academy of the West operates the antiques-filled Treasure House, which helps raise funds for the Academy's classical music festivals. Of special note, the May Madness sale, with donations from the area's doyennes, is an all-day event. Two of the city's southern enclaves are also essential design destinations. Summerland's Lillie Avenue flows past garden shops, continental antiques stores, and Just Folk, one of the West Coast's best galleries for American crafts and tramp art. In Montecito, where early-20th-century architect George Washington Smith helped popularize Spanish Colonial Revival, the junction of San Ysidro and East Valley roads is a hub for antiques stores, many housed in the most charming strip malls you are ever likely to see. William Laman's shop, furnished with sunroom classics, and Davis & Taft, which specializes in early-20th-century decorative arts, are must-see spots, where you might catch a glimpse of Montecito homeowners Oprah Winfrey, Jeff Bridges, and Ellen DeGeneres.
North of Santa Barbara, take a detour on Highway 101, which jogs inland and passes through Los Alamos, one of a string of small ranch communities, then heads north to the college town of San Luis Obispo. It is here, in 1958, that Alex Madonna created a motor inn that has become synonymous with theme-room hotels. With Swiss-chalet architecture, rock formations, and Technicolor decor, the Madonna is blind­ingly kitschy and wildly entertaining. By contrast, the city of San Luis Obispo, recently proclaimed on Oprah as the happiest place in America, has a tastefully preserved downtown that the National Trust for Historic Preservation granted a Great American Main Street Award in 1999. If you are there on a Thursday night, don't miss the farmers' market on Higuera Street—it's the heart and soul of a rapidly evolving local foodie community.
Read full article here

By David Keeps