Compass Launches Ninth Luxury Market In San Francisco
September 09, 2016 Filed under: The Buzz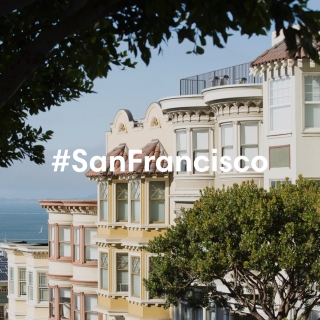 SAN FRANCISCO, Sept. 2, 2016 /PRNewswire/ -- Compass, a technology-driven real estate platform, continues its national expansion with the launch of its San Francisco location. The firm, which has already established unprecedented market share across 8 luxury markets around the country, seeks to bring a more sophisticated real estate experience through the country's leading agents and proprietary technology to Bay Area customers.
Compass' founding San Francisco team features the most productive agents from top brokerages in the area – signaling a dominant position in the market from its inception. The company's initial members include the Malin Giddings Team, the #1 agent team in the United States from Coldwell Banker, Butch Haze and Rick Teed the #1 agent team from Sotheby's International Realty, Monica Pauli, the #1 agent in San Francisco by year-to-date sales volume, and Amanda Jones – a top team from Sotheby's. Eight additional agents plan to join in the coming days. These founding agents represent an incredible $1 billion in 2015 sales.
The luxury brokerage's foray into Northern California comes on the heels of a $75 million funding round led by Wellington Management, IVP, Founders Fund and Thrive Capital, bringing the total amount raised to $210 million. With an already strong cash position, this additional funding is the most raised by any residential brokerage.
"San Francisco is one of the most sought-after locales in the world, and we are extremely proud to start our journey here with such a tremendous team of talented real estate professionals," said Robert Reffkin, Founder & CEO of Compass. Reffkin also noted that because Compass is wholly-owned and not franchised, the company has a strategic advantage when expanding into new markets by focusing on culture and selectively choosing some of the most talented and collaborative agents in the market.
The firm's agent-facing and consumer-facing applications, created by 50+ in-house engineers, have disrupted an industry which has been slow to adapt to new technologies. Compass was the first residential real estate services company to launch an agent-only mobile app to increase agent productivity. Additionally, the recent launch of Compass Markets, a first-of-its-kind real time market report via a mobile app, has been well-received across the country. Designed to eliminate stale quarterly market reports, Compass Markets provides up-to-the minute housing data so consumers and agents can make more informed real estate decisions. The App will soon be available in San Francisco.
"Now that Compass has a footprint in one of the world's leading tech hubs, I am confident that we will achieve even greater success building a more transparent and efficient real estate experience for agents and consumers. San Francisco is truly the crossroads of innovation and we are thrilled to be here," said Ori Allon, Compass Founder and Chief Executive. "We are the only technology-focused company in the real estate industry that wishes to empower human beings, not replace them."
Compass currently has more than 900 agents nationwide representing approximately $8 billion in annual sales. The firm recently expanded its new development arm to include a West Coast operation with a $3+ billion pipeline, and launched the Compass Global Sports and Entertainment Division catering to the specialized needs of professional athletes and celebrities.
Compass was launched in New York City in 2013 by Allon, who sold two previous companies to Google and Twitter, and business partner Robert Reffkin, a former Chief of Staff to Goldman Sachs' President & COO. The Company began its national expansion last year, opening offices in Washington, D.C., Miami, Boston, the Hamptons, Los Angeles, Santa Barbara, and Aspen.
About Compass:
Compass is a technology-driven real estate platform dedicated to creating a seamless and intelligent home buying, selling, and renting experience. Combining the country's top agents, proprietary market insights, and integrated mobile and web technologies, Compass is developing the future of real estate decision-making. Compass has locations in New York City, San Francisco, Washington DC, Boston, Miami, Los Angeles, Santa Barbara, the Hamptons, and Aspen, and has raised $210 million in investor capital. For more information on Compass, and to view exclusive Compass properties, visit www.compass.com.