CELEBRATING ARCHITECT JULIA MORGAN'S 141st BIRTHDAY
January 30, 2013 Filed under: The Buzz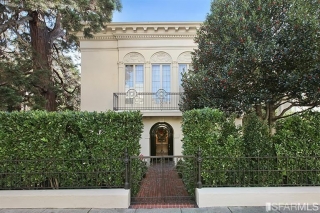 Native San Franciscan, born January 20, 1872
We tip our hat to Julia Morgan on her birthday as one of the great American architects, and for opening the door to the advancement of women's opportunities within the field.
Alma mater UC Berkeley, BS/Engineering1894, only woman in her class
1st woman at l'Ecole nationale superieure des Beaux-Arts, Paris 1896
First woman architect licensed in California in 1904
Legacy of advancing women's opportunities in the professions
Wm. Randolph Hearst's principal architect, best known for La Cuesta Encantada in San Simeon, 1919-1947
Her impressive 'living' portfolio is represented throughout the West, built over five decades, including restorations, institutional designs for YWCAs, UC/B, Mills College, libraries, chapels & churches
Her most notable projects in the City include: University High School (formerly the Burke School) the Zen Center on 300 Page Street (formerly the
Emanuel Sisterhood Residence
Many of her original residential commissions have earned historic or landmark designations and are prized by their current owners.
An exquisite example, new on the market:
1055 GREEN STREET atop Russian Hill, offered at $7,950,000. Originally the John Bricknell Victorian built in 1866 and transformed as a classic Italianate by Ms. Morgan in 1916 for prominent art importer David Atkins. It has most recently been seismically upgraded and meticulously restored. 21st Century amenities have been carefully installed while respecting Ms. Morgan's original attention to detail and craftsmanship. Its beautifully landscaped grounds allows for outdoor entertaining and contains a detached guest house and 2-car garage.