CELEBRATING ARCHITECT BERNARD MAYBECKS 151st BIRTHDAY
February 16, 2013 Filed under: The Buzz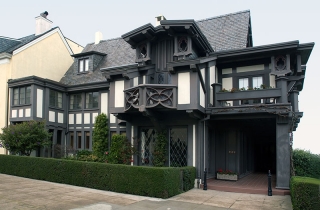 Where is the most romantic spot in the City for the first kiss, proposals of marriage and intimate wedding portraiture? The iconic Palace of Fine Arts! Designed by Bernard Maybeck for the Pacific Panama International Exposition of 1915, the restored majestic rotunda and colonnade with reflecting pool provide a glorious setting for life's most memorable events to this day!
Raised in Greenwich Village, at age 18 Maybeck studied at L' Ecole des Beau Arts, the architectural institution which most influenced young American architects at the turn of the century. He arrived in San Francisco in 1889, mentored with Ernest Coxhead, then worked with A. Page Brown for whom he executed architectural drawings for the Swedenborgian Church at 3200 Washington Street (1891).
Among Maybeck's best known residential commission in the City is the Roos House at 3500 Jackson Street in the English Tudor style (1925). The imposing home was a wedding gift from Morris Meyerfeld, Orpheum Theater Company magnate for his daughter Elizabeth's marriage to department store entrepreneur Leon Lazare Roos.
The architect's fine eye for detail evolved with a blending of styles--Gothic, Beaux-Arts classicism, Mission, Arts & Craft and Japanese—yet a copier of none. His designs incorporated engineering, with sensitivity to natural materials and bringing natural light and the outdoors into his interiors.
His magical First Church of Christ, Scientist in Berkeley (1910) is considered one of the most beautiful edifices in California and was designated a National Landmark in 1977). In 1951, Maybeck was awarded the Gold Medal of the American Institute of Architects. Visit www.maybeck.org. Native of NYC, born February 7, 1862 (d October 3, 1957).