Blue Bloods & Billionaires
September 09, 2013 Filed under: The Buzz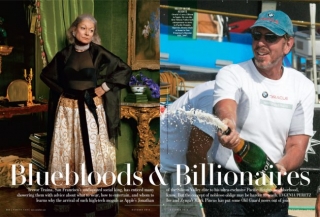 In Waspy Pacific Heights Culture Clash, It's Tech Bravado vs. San Fran's Old Guard
Vanity Fair Reports:
The new guard of tech entrepreneurs moving into San Francisco's ultra-exclusive neighborhood of Pacific Heights, historically a Waspy and conservative enclave of old-money families, is creating friction, writes contributing editor Evgenia Peretz in the October issue. Peretz speaks with both new and old residents, exploring the culture clash.
"They bore the hell out of me," San Francisco society doyenne Denise Hale tells Peretz of the Silicon Valley transplants. "They're one-dimensional and can only talk about one thing. I'm used to brilliant men in my life who leave their work, and they have many other interests. New people eventually will learn how to live. When they learn how to live, I would love to meet them." An exception, Hale says, is Yahoo C.E.O. Marissa Mayer: "Marissa is something which I like. Marissa has a handsome husband, in love, beautifully dressed, a lady. I don't go for this slob culture—leave me alone."
Peretz writes that the two families who ruled the roost in Pacific Heights for the past 30 years—the Gettys and the Trainas—are still very much kicking today. But, according to Peretz, the tech elite is buying there en masse, including: Mark Pincus, founder and chairman of gaming platform Zynga, and his wife, Alison, co-founder of online-shopping destination One Kings Lane; Sir Jonathan "Jony" Ive, head designer at Apple; Jeremy Stoppelman, co-founder and C.E.O. of Yelp; Bebo's Michael and Xochi Birch; Facebook designer Aaron Sittig; Nextdoor founder Nirav Tolia; and Yammer C.E.O. David Sacks.
The younger generation of Gettys and Trainas appears to be welcoming its new neighbors with open arms. According to Tolia, Trevor Traina, San Francisco's undisputed social king, "basically handpicked the neighborhood" for them. "My aspiration for my good friends is that they all love their homes," Traina tells Peretz, "and selfishly it's wonderful to have so much incredible magical brainpower nearby."
One bone of contention for the older residents of Pacific Heights is the lack of philanthropic involvement from the tech community. But some tech people think they're getting a bad rap. "I didn't really think about it," Sacks tells Peretz when asked about the moment last year when he knew he was $1.2 billion richer, thanks to the sale of Yammer to Microsoft. He threw himself a $1 million 40th-birthday party called "Let Him Eat Cake," for which the guests were asked to dress up as members of Marie Antoinette's court. He insisted that the guests keep the party secret from the public. As for his philanthropic giving, it's mostly anonymous, he says.
The tech entrepreneurs seem unimpressed by the pedigree of the older Pacific Heights families ("I probably don't know who those people are," Sacks tells Peretz). "Silicon Valley people tend to be allergic to this notion of 'society,' " says Tolia. "Kissing the ring doesn't do anything. Like, who kisses the ring? What people do is, they commit themselves to excellence and they work really hard to create that. . . . The people with privilege aren't the ones creating the great companies. It's the people who work the hardest, have the best ideas, and are the most passionate and most innovative."
Peretz also speaks with 47-year-old design guru Ken Fulk, whose clients include the Pincuses, the Birches, Traina, and Tolia, and who designed Sean Parker's multi-million-dollar wedding, which he called "beautiful enough to bring you to tears." Fulk describes himself as "a shortcut to things they want to do, to have a good party, to buy the right suit, to know where to stay when you go to Zurich. I have clients move here, and the women, I'll give them a list: This is where you should cut your hair. This is who you should wear if you want to go to lunch, to eat the right thing. They want to know and I love telling them! It's not like I want to be in charge, but you want people to have a good experience."
Fulk's tech clients are typically control freaks, but they put themselves completely in his hands when it comes to their homes, he tells Peretz. After the Birches bought their Gold Coast home, they decamped to London for seven weeks and let Fulk redesign every square inch, even importing an actual old English pub from England because Michael calls drinking his main hobby. Before the Birches' arrival at their new home (what Fulk calls "the Reveal"), the designer gathered all the Birches' friends at the house, got two Beefeater doormen from the Sir Francis Drake Hotel to greet guests, and enlisted a singer to serenade the group with Beatles songs.
Despite astronomical real-estate prices in Pacific Heights, Traina describes his friends' Gold Coast properties as fixer-uppers. Of the Pincuses 11,500-square-foot Dutch Colonial Revival–style house, bought for $16 million in August, he says: "Their house needs a lot of work but also has superb potential, so I'm really excited for them." As for David Sacks, who spent $20 million in September on a 17,500-square-foot mansion and 6,000-square-foot guesthouse, next to the Pincuses: "It's hollow, but it has superb potential."