Big-budget Furniture Designers To Watch
May 12, 2014 Filed under: The Buzz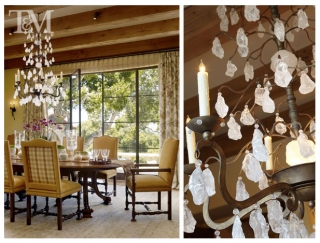 Now, which piece of furniture are you willing to spend it on?
One that makes a bold statement or a piece that subtly shines from the shelf throughout the decades? Do you look up to it or does it ground you? Is the table, chair, sofa, lamp, bed really worth it?
In the world of high-end furniture design, the Bay Area is home to a legion of luxury tastemakers who can help us answer those questions. Tempting us with objects that we never knew we always wanted, and positioning them "just so," they make it impossible for us to imagine this room, or that corner, without said pièces de résistance.
Suzanne Tucker is one such beguiler. She is also one of the country's leading interior designers and founder of Suzanne Tucker Home, which currently includes a textile collection and line of tabletop accents for Royal Limoges, with more to come soon. She says that, personally, she would spend the most money on: "Antiques! I always encourage my clients to have at least one piece of age in a room. Incorporating something old and beautiful transforms a room in a subtle, yet profound way.
"Antiques resonate with history's silent voices, and I often imagine their stories. The appeal resides in a heavily lacquered surface, in a patina only achievable with time; their very imperfections speak to me of character and life lived. When it comes to new pieces, my rule of thumb is 'when the lines of a piece are right for the room, buy the best quality you can afford.'"
When choosing furniture for her clients, she creates detail that can be "felt, even if it's not consciously noted, per se." She'll place a custom Erika Brunson chair—an overscaled version of a Venetian chair photographed in a room by design legend Billy Baldwin—in a client's sundrenched bedroom. The scroll pattern on the back casts beautiful shadows, while its gold luster creates soft dimensions—reflecting, say, the marina outside and offering a sensuous detail to set a mood.
"An elegant piece of furniture has lines and shapes that tease, beckon, and comfort us," Suzanne says. A table, designed by Andrew Fisher and Jeffry Weisman for Michael Taylor Designs, placed in a living room Suzanne designed for the 41st Annual Marin Designers Showcase, does just that. "I placed an oval table with a sinuous tree-trunk base in the curved prow of a room. Not only does the oval shape make sense in that space, the organic trunk design speaks to the indoor/outdoor feel of the room, and makes for the perfect transitional piece upon entering the terrace with its spectacular view."
As one-half of the interior and furniture design team Fisher Weisman, Jeffry is professionally creating beautiful furniture while, personally, becoming addicted to purchasing what he calls "special" chairs and chandeliers. He says that, for him, elegant furniture is about "inventive designs using beautiful materials that are handcrafted by skilled artisans; the end of ordinary."
Uncommon, yes, but he doesn't overdo the unusual to the point of distraction. "Creativity must be tempered with subtlety to achieve elegance. The key to knowing when to express flair and when to tone it down is balance. A room with too much flair is jarring; a room with too little falls flat. The eye needs visual pauses between the notes of high style."
While Jeffry strives for an overall elegant look to his luxury furniture designs, he doesn't put an end to innovation. "There is an ever-increasing spectrum of sumptuous materials and finishes that the new generation of artisans is eager to experiment with. As a result, we are seeing all kinds of furniture that just a few years ago didn't exist."
One such innovator is Yves Behar, sustainability expert and founder and principal designer of Fuseproject, an award-winning industrial design and brand development firm. "Design brings stories to life," he has said, and his inspiration doesn't exactly come from a new finish or material, but rather from something more intangible—specifically, emotions.
He blurs the lines between function and beauty, technology and luxury, by associating personal feelings with the objects he creates and, in the process, adds an artistic and emotional fourth-dimension to furniture design. His friend Kanye West describes Yves this way: "He's not in a box … He can design whatever he wants. That's the type of creative expression and freedom any creative person wants."
The Leaf Light that Yves designed for Herman Miller, for example, marries his graceful aesthetic with energy-efficient LED technology and has been celebrated across the design world as an "instant classic." From adding a little sexy to Jawbone [wearable technology and audio devices] and redefining the future of office space, to creating a low-cost laptop for the One Laptop Per Child Foundation to benefit children in developing countries, Yves is Promethean in his ventures. Daringly original and boldly creative, he has said, "I believe design's purpose is not only to show us the future, but bring us the future."
That future, in terms of furniture design and according to style forecasters, is all about luxury saturated with emotion; warm, antiqued memories; sultriness evoked by sensuous curves—entire pieces that project emotionally thoughtful designs, coming to us already in possession of their own "consciousness."
Val Reilly is a freelance writer, reporter, and on-air contributor living in San Francisco. She shot AK-47s in Vietnam, swam with wild dolphins in Kealakekua Bay, backpacked through Yosemite backcountry, tried to out-drink the Irish, and sailed around the British Virgin Islands. She is currently experiencing her biggest adventure yet: raising a baby daughter.
By Val Reilly
Nobhill Gazette