Apps For Luxury Living
May 03, 2013 Filed under: The Buzz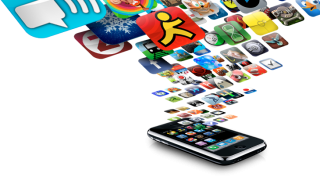 Nob Hill Gazette
With the advent of smartphones, a vast new frontier for apps opened up. Apps help people do everything from traveling the globe to managing their time, to keeping tabs on their investments. Here are a few apps dedicated to luxurious living.
Do you want to jet to your next exotic locale without all the hassles of airport security? Download the Private Fly app for iPhone. You'll find private charter prices, the nearest airports with private jet service, and access to information on more than 7,000 accredited private jet aircrafts. The app comes with a "Jet Me Home" button for immediate flight information.
Once you get to your destination, use the Layar app as your go-to travel tool. Just point your camera at a tourist attraction, and the app will deliver interesting and useful information about it. The Field Trip app by Google is similar, but it also tracks your whereabouts and helps you find deals for eateries and entertainment.
For last-minute hotel accommodations, the Hotel Tonight app can be a life saver. This recently redesigned app offers same-day hotel reservations in less than eight seconds. You can browse photos of hotels all over the U.S., as well as 16 cities in continental Europe and the UK.
While you're away from home, Savant's Home Automation app gives you the luxury of peace-of-mind. You can adjust household lighting and temperature so you'll return home to a perfectly comfortable environment. Whether it's your private dwelling, business, or pied-à-terre, home surveillance camera apps, such as Lextech Labs' iRa Pro ($899.99 at iTunes), give you access to multi-room audio and video files. At the touch of a finger, you can zoom in and out, or pan specific locations for activity.
Apps also make it possible to look gorgeous without hiring a personal trainer if you're traveling or don't have time to go to a gym. Reebok Fitness app lets you tailor your own fitness routine to any setting—you can easily design your workout for hotel rooms or other on-the-fly places.
Likewise, the Yoga Studio app offers a moveable yoga studio. You can download different classes by level and focus on various elements of your practice, such as balance, strength, or flexibility. The app offers videos for 30 ready-made yoga classes, ranging from 15 to 60 minutes, and includes pose adjustments and calendar alerts.
If you simply want to keep track of how much you move during the day, try the Moves app for iPhone. This new app tallies walking, bicycling, running, climbing stairs, and everything in between. Just bring your iPhone along with you wherever you go, and the app automatically keeps a log of all of your movements.
Or, use the Walkonomics app—which only works in San Francisco, New York, and England—to rate the "pedestrian-friendliness" of individual streets, according to safety, hilliness, cleanliness, and atmosphere.
If you're playing here at home, check out the San Francisco Exploratorium's Sound Uncovered app for iPad and "explore the surprising side of sound," with soothing instrumentals and calming acoustic jams.
And if the quest for happiness eludes you, the Happier app for iPhone is based on research that shows that focusing on the positive increases your chances for bliss—and sharing happy moments makes you happier, too. The next time you have a sumptuous dinner, fabulous spa day, or see that cute little kid blowing bubbles in the park, snap a photo and send it to a friend—instant happiness.
A passionate yoga aficionado, Kellie Ell is a contributing writer for the Nob Hill Gazette and other publications. When she isn't writing, she can be found climbing the hills of San Francisco on her bike.
by Kellie Ell