Zillow: Bay Area real estate rebounding
October 23, 2012 Filed under: The Buzz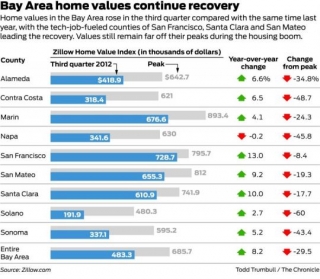 Two real estate reports out Tuesday paint a picture of a Bay Area market in turnaround mode against a backdrop of uneven recovery nationwide.
Real estate service Zillow showed that Bay Area home values rebounded by 8.2 percent in the third quarter compared with the same time last year - but are still down 29.5 percent from their peak in 2006.
Meanwhile, listings site Realtor.com looked at price changes and supply/demand dynamics in a report on for-sale houses called "Turnaround Towns" that showed Oakland leading the nation, followed by Sacramento, San Jose, San Francisco and the Seattle region.
Zillow's report assesses what all homes in an area are worth, although the prices of recently sold homes factor heavily into the equation.
The Bay Area's 8.2 percent home-value increase - with homes worth a median of $483,302 - outperformed the nation, which had a 3.2 percent increase in the third quarter compared with last year.
Continued tight inventory, leading buyers to bid up home prices, helps fuel that appreciation, said Stan Humphries, Zillow chief economist. While he expects prices here to continue rising, he thinks future increases will be more modest than this year's robust gains.
"There aren't enough houses to go around for buyers," said Jess Williams, a real estate agent with Redfin in San Francisco. Average asking prices in the city are up 23 percent this month from the same time last year, he said. Some buyers are jumping into the market because rents are so high they realize the same monthly amount would cover a mortgage payment. Low interest rates are another incentive.
Hot neighborhoods
Super-hot neighborhoods like Noe Valley, where buyers get priced out in bidding wars, have led to smaller markets like Glen Park and Bernal Heights also seeing strong appreciation, he said.
Williams is readying for sale a two-bedroom, two-bathroom Glen Park Victorian "with tons of charm." It will be priced in the high $800,000s, he said.
While rising values benefit people selling their homes, as well as homeowners, they have an obvious downside for those who want to buy.
"From a societal perspective, we want the prices of products we buy to be lower," Humphries said. "So an increase in home prices is not good for everyone - particularly for first-time buyers."
Where the jobs are
The strongest performing Bay Area counties were San Francisco (up 13 percent in the quarter compared with last year), Santa Clara (10 percent) and San Mateo (9.2 percent).
That dovetails with where the region's job growth is happening.
"It's clear that your standouts in the Bay Area are those three counties that have the highest concentration of tech sector jobs," Humphries said.
Despite the increases, Bay Area homes, like those nationwide, are worth far less than they were a few years ago during the housing boom. That means that many people who bought or refinanced during those years are still underwater.
Values for the region as a whole are still down 29.5 percent from a peak in early 2006, for instance. In hard-hit Solano County, values are down 60 percent from peak, while in San Francisco - which had a much more moderate housing recession than the rest of the country - they are down just 8.4 percent.
Nationwide, the recovery is scattershot with slightly more than half (52 percent) of metro areas posting home value declines compared with the prior quarter. Zillow said this is consistent with its prediction of a saw-toothed housing bottom, with home values notching small gains and losses before returning to the steady appreciation that has historically been the sign of a healthy market.
While housing has been all but ignored on the presidential campaign trail, voters may be considering it in deciding which candidate to support.
Out of the nine states expected to be battlegrounds in the electoral college, five - New Hampshire, North Carolina, Ohio, Virginia and Wisconsin - showed quarterly declines, Zillow said.
Zillow's interactive report is at zillow.com/local-info.
The "Turnaround Towns" report from Realtor.com looks at for-sale homes to gauge which markets are undergoing the most dramatic changes, factoring in price appreciation, inventory, inventory reductions, searches by home buyers and unemployment rates. In order, the metropolitan areas were Oakland, Sacramento, San Jose, San Francisco, Seattle, Bakersfield, Santa Barbara, Phoenix, Fresno and Miami.
'Turnaround markets'
Seven out of the top 10 are in California - three of the top four in the Bay Area.
Being on the list doesn't necessarily mean that an area is currently in great shape - such devastated cities as Phoenix and Fresno rank eighth and ninth, for instance - but it does bode well for the market's future recovery.
"Those turnaround markets are on the path to becoming more normalized, stable markets," said Curt Beardsley, vice president of Realtor.com, the official website of the National Association of Realtors, which showcases 4 million property listings.
Again, tighter inventory is a huge factor, along with the related factor of how quickly homes sell.
"What stands out in Oakland is that the inventory reduction is so dramatic there," Beardsley said. "There is pent-up demand for properties that just aren't there yet. If a house does come on the market, it sells - and sells very quickly."
Carolyn Said is a San Francisco Chronicle staff writer. E-mail: csaid@sfchronicle.com
Read more:http://www.sfgate.com/realestate/article/Zillow-Bay-Area-real-estate-rebounding-3973287.php