WHY SAN FRANCISCO IS AWESOME FOR THE HOLIDAYS
December 04, 2015 Filed under: The Buzz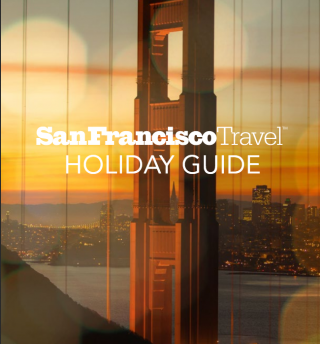 FIVE MUST-SEES IN SAN FRANCISCO THIS HOLIDAY SEASON
San Francisco loves the holidays so much that it can't limit itself to a single giant Christmas tree. There are actually dozens: Macy's soaring 80-foot-plus tree in Union Square, an officially nondenominational tree at City Hall, and another majestic tree at PIER 39. But once you've wished for peace on Earth and goodwill to all, there's still plenty to do besides sip an eggnog latte at the nearest third-wave coffee shop. Between major art shows, musical events and big performances, winter is brimming with culture.
A Pip of a PPIE
San Francisco is still celebrating the centennial of the 1915 Panama- Pacific International Exposition (PPIE) and the de Young Museum marks this grand exposition which covered 76 city blocks with "Jewel City: Art from San Francisco's Panama-Pacific International Exposition" through Jan. 10, 2016. At the heart of the PPIE was one of the most ambitious art exhibitions ever presented in the U.S., encompassing more than 11,000 works. To mark this anniversary, "Jewel City" reassembles more than 200 works by major American and European artists, most of which were on display at this defining event.

Westfield San Francisco Centre
From Nov. 19-Dec. 31
Westfield San Francisco Centre's iconic dome will come to life each night with "Nutcracker Under the Dome," a one-of-a- kind animated 3D show. The San Francisco Ballet's "Nutcracker" is the inspiration for this extraordinary visual experience crafted by local technology innovators, Obscura Digital. A lively cast of holiday characters including sugar plum fairies and toy soldiers comes to life under the dome. The six-minute show crescendos as more toys join the brigade and the entirety of the 102-foot dome becomes one gigantic holiday music machine. Show times are 5 p.m. until closing.
Odysseo Opens Nov. 19 at AT&T Park
"Odysseo," the latest production of the internationally known entertainment company Cavalia, opens Nov. 19 under the White Big Top at AT&T Park. The $30 million extravaganza is the world's largest touring company and features 75 magnificent horses and 45 riders, acrobats,dancers and musicians. Equestrian arts and high tech theatrical effects unfold under the largest touring tent on Earth.
Illuminate SF Festival of Light
Light art will illuminate block after block of San Francisco's corrugated surface Nov. 26-Jan. 1 for the Illuminate SF Festival of Light. The third annual light fantastic includes 27 dramatic, eco-friendly light art installations — 11 more than in 2014 and three times the number of the inaugural celebration in 2013 — accessible by public transit and admission-free. A two-month celebration during the longest nights of the year, it features free light art tours, nighttime neighborhood walks, artist talks and participatory experiences. Many of San Francisco's intimate neighborhoods will also light up shopping districts, streets and galleries, and host participatory holiday activities. On Jan. 30, 2016,The Bay Lights will shine again, this time forever, as a gift to the people of California thanks to the generosity of private donors and Illuminate the Arts. Starting Jan. 30, 2016, The Bay Lights will shine.
SAN FRANCISCO HOLIDAY GUIDE 2015/16
SHN Musical Romps
SHN offers two holiday diversions onstage this season: "A Gentleman's Guide to Love & Murder," Dec. 1-27 at the SHN Golden Gate Theatre and "A Christmas Story, The Musical," Dec. 9-13 at the SHN Orpheum.
"Gentleman's Guide," winner of the 2014 Tony Award for Best Musical, tells the tale of a distant heir to a family fortune who decides to eliminate eight pesky relatives (all played by one man) who are between him and
riches. "A Christmas Story" chronicles the pursuit of young Ralphie Parker to secure the gift of his dreams: an official Red Ryder Carbine-Action 200-Shot Range Air Rifle.
DOWNLOAD FULL HOLIDAY GUIDE HERE

San Francisco Travel Association