Step Inside an Urban-Inspired Tahoe Interior
July 10, 2015 Filed under: The Buzz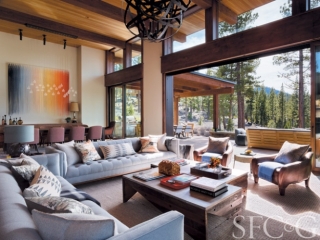 Next generation Tahoe has set up camp and younger, fresher design is following in its wake. With the influx of technologically- and entrepreneurially-minded homeowners, demand has grown for residences that reflect more modern sensibilities, transforming the lake into a destination for contemporary architecture and interior design. Rather than abandoning Tahoe tradition altogether, however, young residents are championing warm modernism: a little coziness and comfort to go along with those glass walls and streamlined surfaces.
This look is what drew a young Bay Area couple with three small children to Martis Camp, a nine-year-old luxury development that has helped define the new Tahoe with its range of architectural styles. The couple hired architect Brendan Riley of Ryan Group Architects, who had previously worked with Martis Camp to help establish its design guidelines. Notes Riley, the current generation of homeowners isn't a nostalgic lot. "Rather than Grandma's dark cabin, they want to explore a new style of architecture that not only reaches out to the sun, it makes a connection with the distant mountains," he says. He designed a 5,000-square-foot residence that pairs vernacular materials like stone and cedar with modern architectural details like expansive picture windows that frame stunning vistas. "The entire floor plan is organized around the view that goes over the fairway and out toward Anderson Peak," he says.
Tahoe's new residents increasingly turn to Bay Area designers to craft their urban-inspired interiors. This family commissioned Jay Jeffers, who wasn't surprised by their contemporary leanings. "Thanks to travel and the web, a lot of younger people are exposed to modern design and know it doesn't necessarily equal stark or minimal," he says. "They're attracted to warm modernism." Jeffers selected pieces to establish harmony between old and new. In the living room, a pair of vintage leather armchairs from his San Francisco boutique, Cavalier, does just that. "They aren't quintessential Tahoe," he notes, "but they definitely have an earthy feel to them." To further marry modern and rustic, the designer chose side-by-side coffee tables for the living room that are fashioned from raw wood but cut at hard angles for an edgier look.
The dining room is anchored by a table crafted of heavily distressed, blackened oak, but its bold lines give it a modern, monolithic feel. And in the top floor media room, a cowhide ottoman is paired with contemporary, channeled gray sofas. His clients also requested that the artwork, which they selected with consultant Jody Knowlton, take center stage. From the Nike Schröder work in rayon thread that dominates the dining room to the inkjet print by Mark Klett and Byron Wolfe that commands the hallway, contemporary pieces creates "wow" moments throughout the home. "They wanted the art to be the star, so I knew the furnishings needed to be fairly neutral with no big patterns or bold colors," says Jeffers.
To create a stylish canvas in the main living space, he selected textural pieces in a cool palette: a pair of tuxedo sofas in dove gray, a trio of charcoal hide ottomans with white leather whipstitching, and kitchen benches in a striped wool with contrasting welt. The home's warm, contemporary statement exemplifies new Tahoe style. "It embraces clean lines and simple, comfortable furnishings with a well-edited mix of accessories and art," says Jeffers. "It's what warm modernism is all about."

SFC&G | By Mindy Pantiel | Photography by Matthew Millman
Full Article at: SFC&G