Serenity Now
October 13, 2015 Filed under: The Buzz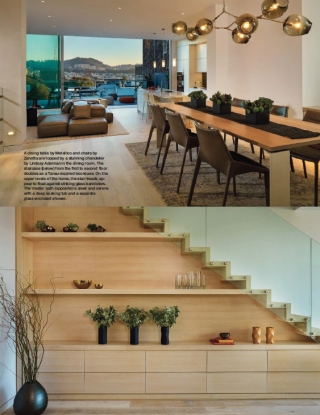 A turn-of-the-century Presidio Heights home is reimagined as a contemporary showplace with East/West influences.
Gentry Home September/October 2015.
A fascinating combination of drama and calm coalesce in this unique Presidio Heights residence. The project is the brainchild of Riaz Taplin who managed every step of the process. "My clients are Japanese, but have called San Francisco home for nearly 20 years before purchasing this property," recalls Taplin. They lead very busy lives with global business interests, but having just started a family, they realized it was time to leave their 1,500-square-foot apartment for a home with more space. The idea of a complete remodel is daunting for anyone. The headache of wrangling with dozens of contractors is a full-time job. That 's where Taplin and his team at RIAZ Design excel. From negotiating with the neighbors and City Hall for permits, through the architectural meetings and the building process, right down to the installation of child safety gates, Taplin ensures that the project will be completed to his exacting standards.

The original home on the property was over 100 years old and had been remodeled multiple times over the years with the last major work being done in the 1970s. "It was ready for a major makeover," relates Taplin. He worked with his clients to create a fresh contemporary esthetic with nods to the influence of great Japanese architects. It 's a milieu that Taplin personally adores. While majoring in Economics at USC, and later the London School of Economics, he minored in architecture, spending a year abroad in Tokyo savoring the opportunity to study the works of creative masters, including Tadao Ando, Toyo Ito & Associates, and Fumihiko Maki & Associates. "For this house, we wanted to give it a minimalist feeling and let certain elements, like the spectacular view, a living green wall, and a floating staircase be the focal points," he says. Taplin worked with the architects at Martinkovic Milford to reorganize the home's 5,400-square-foot spaces. "It is so critical to not only find out how the client lives now, but to think about how they might live years from now," notes Taplin. "With these clients, it was important to envision how their children will grow and what sort of spaces they'll need in the future." To that end, he created flexible bedrooms and play spaces on the lower floors that can easily access the backyard.

On the main level, Taplin devised a massive free-flowing living room, kitchen, family room, dining area, and deck space with plenty of "wow factor," says the designer. "Let's face it. I want to come home to a place that makes me happy. We all do. This space makes you happy. You can envision wonderful parties here. You can envision kids playing inside and out. It's sophisticated, rich, and classic, but not fussy." Taplin achieved that rich feel with wonderfully warm textures and elegant materials. Wide-planked hardwoods cover the floors and run up the walls in the form of sleek cabinetry and bookcases. White Carrara marble makes a statement in the kitchen, while low taupe leather seating by B&B Italia beckons guests to rest and enjoy the view. The living room is anchored by a Himalyan silk and wool carpet with an organic design and topped with an extra-long sofa and ultra modern black club chair and ottoman from Dzine. Along the eastern wall, Taplin added a living wall of plants and a floor-to-ceiling stone fireplace with a low-slung gas hearth from Blaze Fireplaces. The core of the home is connected by the aforementioned floating staircase that is illuminated by a magical light fixture by Bocci that seemingly floats up to the skylight, washing the entire home in natural light. One of the homeowners' favorite elements of the finished home is the stunning wine cellar that doubles as a piece of functional art. Located in a niche, the temperature-controlled cellar is made up of suspended cables that give the illusion of a floating wine collection. Taplin says that he loves those little touches that make you smile. One can imagine his clients must find themselves smiling every day in this enchanting space.
INTERIOR DESIGN BY RIAZ TAPLIN OF RIAZ DESIGN, SAN FRANCISCO
ARCHITECTURE BY MARTINKOVIC MILFORD
PHOTOGRAPHY BY PETER MEDILEK
LANDSCAPE DESIGN BY HILL STEPHENS DESIGN

Gentry Home September/October 2015.