Passion Play: Upfront with Malin Giddings
April 23, 2013 Filed under: The Buzz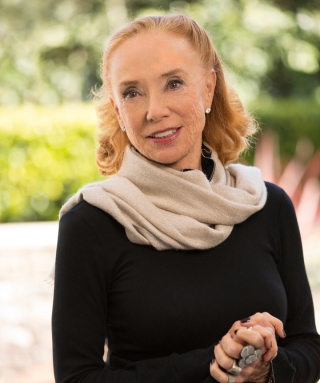 Coldwell Banker Previews, Inside & Out interviews Malin
"Golf is life; the rest are details," proclaims Malin Giddings, a luxury real estate specialist who has spent the last 20 years of her life on the fairways. For an agent who ranks No. 3 in the nation among Coldwell Banker Previews® specialists, it's remarkable that Giddings finds even one afternoon per week to play the game, let alone rack up tournament championships right along with real estate sales records (like selling $205 million in San Francisco real estate in 2012).
You might say, however, that her dedication to the sport is also a testament to the commitment she gives to everything, including real estate. After all, if she can easily switch from talking escrows and closings to discussing downswings and flip shots with her high-net-worth clients (the tech industry's who's who and international elites who may spend as much time on the course as she does), she's already ahead of the game. Not that Giddings, the daughter of a Swedish diplomat and president of the Nobel Foundation, doesn't already bring her own pedigree to the equation. Raised in one of the few privately owned homes in the Swedish royal family's Haga Park, Giddings is accustomed to an international lifestyle filled with opulent mansions, glamorous soirees and the best of the best—not just in work, but in play too.
As spring inspires us to move our lives outdoors, Previews Inside Out caught up with Giddings in between a Presidio Park showing and her next outing at the acclaimed Jack Nicklaus-designed Mayacama Golf Club in Santa Rosa, Calif. (about 60 miles from Giddings' home base in San Francisco). We asked her about her definition of luxury, buying golf course properties and of course—her favorite spring pastime.

My idea of perfect happiness is: Freedom.
If I wasn't a real estate agent, I'd be: A professional golfer.
My favorite golf course: The Mayacama Golf Club. It's one of the few walking-only courses in America with caddies. That is how the game was meant to be played.
Person I most admire: My mother. She was an unbelievably strong woman, long before anyone had heard of women's lib. She held our whole family and life together.
Greatest extravagance: A round of golf at Bandon Dunes in Oregon.
Greatest necessity: My iPhone.
If I could buy any 3 Previews golf course properties in the world, the would be in: Oregon's Bandon Dunes, Miami's Fisher Island, American Club in Kohler, Wisconsin
Advice for buying a golf course property: Look for something out of range of any errant balls, beautiful vistas and seclusion.
Looking forward to: A hole in one...I've never had one.
Greatest achievement: My SF Properties business. We keep out-performing ourselves every year. I have to pinch myself that this is a consistent reality.
Greatest love: Fresh air.
Most treasured possession: My health.
Motto: "Onward and upward!"
I can't live without: Laughter and love.
I feel most inspired when: Talking to my young and smart high-tech crowd.
Luxury is: Financial freedom.
Best piece of advice: Focus! (And let other do the talking.)
Wish you had met: Katherine Hepburn. She was a strong and beautiful woman with very good values and a strong work ethic.
Best talent: Survival.
Most desired talent: Becoming a scratch golfer. Everybody who is a golfer wants that. It's the ultimate.
Preview the San Francisco Lifestyle: Stunning Presidio Park mansion with sweeping views of Golden Gate Bridge to Alcatraz.
During her nearly 40-year career, Malin Giddings has sold in excess of $3 billion worth of the finest homes in the city and earned a sterling reputation for being San Francisco's preeminent luxury Realtor. She has been featured in publication from The Wall Street Journal to Haute Living. Unique Homes named her among the 35 most influential people in luxury real estate, joining Jack Nicklaus and Ben Bernanke. More information on Malin Giddings can be found here.