NORMAN CONQUEST: GÉRARD TREMOLET'S NORMANDY HOME
October 09, 2012 Filed under: The Buzz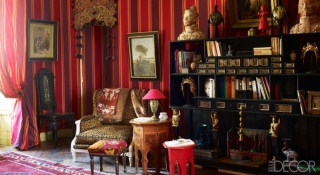 For fashion insider Gérard Tremolet, a château in Normandy becomes an opportunity to indulge his exuberant gift for color and ornamentation.
"I've always loved excess," declares Gérard Tremolet, and during the 30 years the designer spent at the heart of the Paris fashion world, he was certainly a larger-than-life figure. Tremolet made a striking appearance, for instance, at the 1986 inauguration of the Museum of Fashion and Textiles at the Louvre, arriving in a floor-length frock coat with a leopard-print lining, a black top hat, and a veil that covered his face.
The fashionable Tremolet started his career in the accessories department of Jean-Louis Scherrer, and later became the right-hand man of probably the most famous embroiderer of the 20th century, François Lesage. He rubbed shoulders with celebrities such as Lauren Bacall and Elizabeth Taylor, and met regularly with some of the world's most talented designers. "Each couture house had its own spirit," Tremolet recalls. "At Yves Saint Laurent, it was like entering a temple. There was no noise." Karl Lagerfeld's studio at Chanel, on the other hand, was the complete opposite: "There was always music, and things going on."
Today, Tremolet's life may be less at the cutting edge, but it is no less glamorous. He now works as a freelance embroiderer for couturiers and decorators, and lives with his partner, David Barré de l'Etang, a government tax official, at Château d'Ailly in Calvados, in France's Normandy region. "I've always had delusions of grandeur," Tremolet says with a laugh. "So when we decided to move to the country, nothing less than a château would do!"
The couple visited some 20 estates over a period of 18 months and were starting to despair. Then, late one Sunday evening in 2007, Barré de l'Etang spotted an ad on the Internet. It read: "18th-century château with island, chapel, and cemetery." By the following Thursday, they had made an offer.
The château in question is set in an eight-acre park complete with a river and an avenue of chestnut trees planted in 1700. The chapel dates from the 11th century, as does the main body of the house, which has barely been changed since 1721. Tremolet relates how the uncle of Charlotte Corday, the assassin of French revolutionary Jean-Paul Marat, celebrated Mass there. The château had remained in the same family, according to Tremolet, until they purchased it; its last resident was the Comtesse de Vigneral.The idiosyncratic Tremolet immediately fell under the property's spell; he was enamored of the château's intimate size (many of its 30 rooms are small by French castle standards) and 18th-century details, among them the magnificent fireplaces and a bed alcove in a first-floor guest room. But not everything had withstood the test of time. Two rooms had been completely devastated by dry rot. Parts of the door frames and walls were missing in the entrance hall, and there were serious problems with humidity. "It took two years to dry everything out," Tremolet recalls.
For the interiors, his goal was to create a fresh, playful version of grand 18th-century style. "If you're looking for historical accuracy, there are huge mistakes," he readily admits. "I simply drew on my imagination, as well as from films like Barry Lyndon." He painted the walls of a salon with cheeky monkeys dressed up in various costumes, and added a games room. He also gave full rein to one of his passions: mixing bold and surprising colors. For a first-floor hallway, for instance, he chose bright yellow and tomato-red. And there is a touch of pink in almost every room. "It wasn't a conscious decision," Tremolet says. "That's just the way it turned out."
Decorating the château also gave Tremolet a chance to showcase objects and furniture he'd been accumulating for years—he has a fondness for portraiture and owns something like 20 different coffee sets. Even in a château, "There's not enough cupboard space for all the china," he admits. Other pieces found their places more effortlessly. Barré de l'Etang relates how visitors who had been to the château as children claimed the mirror in the games room had always been there. "In actual fact," he says, "we installed it."
The one area Tremolet took true over-the-top liberties with was a bedroom on the first floor, which had been renovated in the 1960s. There, he created an Oriental room reminiscent of his childhood in North Africa (he was born in Algiers). The space has purple-, red-, and orange-striped walls, turquoise curtains, leopard-print chairs, a bed canopy made from a camel blanket, and a Venetian cabinet he has owned for decades. There is also a wardrobe where he keeps costumes for the couple's 18th-century theme parties, the most notable one held each year on the eve of Bastille Day. "It's our counter-Revolution," Tremolet jokes.
The annual summer party includes a picnic in the park, boat rides on the river, and fireworks at night. The odds are that such events will continue for years to come, as the couple say they are sure that they are there to stay. As Barré de l'Etang notes with amusement, "There are two places left in the cemetery."
BY IAN PHILLIPS
Produced by Anita Sarsidi; Photography by Simon Upton
http://www.elledecor.com/design-decorate/interiors/gerard-tremolet-normandy-home