Mad for Midcentury: John Bertram
February 24, 2015 Filed under: The Buzz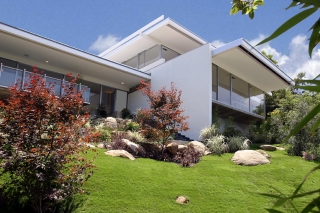 The Rat Pack is back? For some architects—like John Bertram—the form of modernism once immortalized by Ol' Blue Eyes and Dean Martin never really left. His namesake firm is best known for restoring homes from the midcentury period, including those designed by Richard Neutra (1892-1970), whom many consider to be one of the founding fathers of California Modernism.

To date, Bertram has applied his hand to five historic Neutra residences, including the Brown and Hammerman houses in Bel-Air, as well as his own—the 1939 McIntosh house in Los Angeles. (One of Neutra's most famous and most photographed homes was the 1946 Kaufmann House in Palm Springs, a frequent stop on Modernism Week tours.) The clean lines, smooth surfaces and indoor-outdoor connection were all hallmarks of Neutra, and have since been adapted by Bertram and a newer generation of architects. The draw to the midcentury is natural, says Bertram, because "these homes are very livable, flexible and less fussy." They're also understated.

"If my obituary included the words 'understated architect,' I think I would die a happy man," proclaims Bertram, if not a little a facetiously. "Most of my work I'd characterize as subtle and discreet."
For the 10-year anniversary of Modernism Week, we sat down with the modest architect to ask him about the modernist legends who have gone before him and how he finds beauty in the everyday—in the tiny yet meaningful connections built between the house and the humans living in it.

Previews Inside Out Why does modernism speak to you as an architect?
John Bertram I'm drawn to the rational and the pragmatic in modernism. For me, purity of line and clarity of detail have always carried an inescapable allure. That certain purposeful lack of fuss and inherent restraint that characterizes much of the architecture from the period is, for various reasons, difficult to achieve nowadays, and that only makes it more appealing. continued...