In the throes of elegance
January 22, 2013 Filed under: The Buzz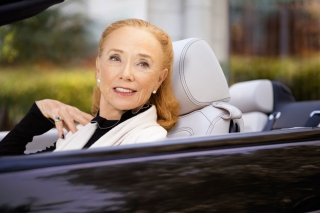 An interview with Malin by 57 Degrees
Carol Ziogas of 57 Degrees a Northern California Lifestyle magazine sat down with Malin to find out a little bit about her past and what went into the making of a Top Real Estate Agent, Business Woman, and Entrepreneur.
With a stunning view from her villa's rooftop garden of the Golden Gate Bridge and overlooking the San Francisco neighborhood she has come to know so well, Malin Giddings is grand dame par excellence of the Northern California real estate market and beyond.
Born in Stockholm, Sweden and raised in one of the few privately owned homes in the Swedish royal family's Haga Park, Malin has an innate sense of grace, elegance and style. Her father was the first president of the Nobel foundation, a position he held for the next 40 years. Malin helped by taking care of the laureates' children, an opportunity that introduced her to people from around the world. The long Swedish winters were filled with "game nights," which included dancing and entertainment with family friends at her home. She skied to school, with Haga Park as her backyard. " I grew up very privileged, but I was very lucky that even though I was privileged, I never new I was," she says of her childhood." I'm not unique, but I think my background has shaped me."
At age 25, she left the relative comfort and security of life in Sweden to be a youth travel agent in New York for one year. The experience enabled her to learn about the U.S. by traveling through it as a guide for others. She sees this early work as a foundation for what she does now-as a guide for her real estate clients. In her late 20's, she married Peter Giddings, the KGO-TV meteorologist. After their divorce, she kept his surname, as she found it was easier for most people to pronounce than her Swedish maiden name.
It was the divorce that prompted Malin to look into real estate in order to support herself. She was fortunate enough to mentor under Florian McGuire Moore, the "Queen of Real Estate," who only worked wit specific high-end properties. "She never quit. She taught me exactly what I am doing today. I never wavered or moved away from my goal, which was to do what she was doing, and it takes time, but I have to say I've reached my goal. I only do the best locations."
The chatter emitting from various communication devices offers a peek into a day in the life of Malin. Her cell phone rings and pings with texts, and her computer beeps every few minutes with email alerts. While she finds great joy in her work, there are times when Malin takes time to get away from the City and head up north to her home in Healdsburg, where she takes in a few rounds of golf. "Golf is life; the rest are details," she says with a smile. These days, Healdsburg is as far as she prefers to travel from San Francisco, desiring to remain available for her clients. "Luxury is peace of mind, and I can't get that by traveling. I've done it enough. I've been a travel agent."
As if to make up for all those long Swedish winters from her childhood, sunlight fills every corner of her San Francisco villa. With a dramatic view from every window in the front and peaceful views of her "Hanging Garden of Babylon" in the back, Malin has filled the interior space with stunning artwork, contemporary and antique art and furnishings, and many close friends. "This is what is interesting in life: it's relationships. That is what makes my world go around."