Frieze Art Fair Delivers Contemporary and More
October 06, 2012 Filed under: The Buzz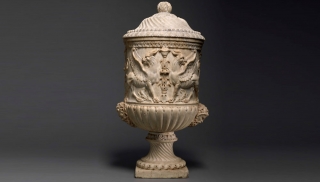 Many wealthy young men of the 18th century finished their educations with a grand tour—a voyage to the great cultural sites of Europe, from which they carried home art and antiques as souvenirs. The grand tour tradition is no more, but the idea of traveling to legendary cities to purchase art evolved into a worldwide circuit of must-see fairs such as Frieze. As the contemporary art fair enters its 10th edition, its creators also will debut Frieze Masters, an art fair featuring everything outside of contemporary art. Both will take place at Regent's Park in London from October 11 to 14.
Frieze, with 175 exhibitors, will feature 21st-century works such as British artist Nigel Hall's Maniot Fragment, an engaging abstract sculpture fashioned in Corten steel in 2005. London gallery Annely Juda Fine Art will show it alongside two other Hall steel sculptures from 2005 and 2006. In contrast, Frieze Masters exhibitor Daniel Katz, also from London, will offer a marble urn decorated with griffins dating to the first century and restored in the 18th century in a manner that suggests the handiwork of the artist Giovanni Battista Piranesi. "This vase's elongated shape and beautiful griffin carvings would have been very appealing to a grand tourist," says Stuart Lochhead, director of the gallery. "Portrait busts and fragments of buildings would have been very common, but a vase was much rarer and would have been sought after to take home to grace a grand English country home.
-Sheila Gibson Stoodley, robbreport.com.