Join the fun around town for San Francisco's tree lighting ceremonies
November 18, 2014 Filed under: The Buzz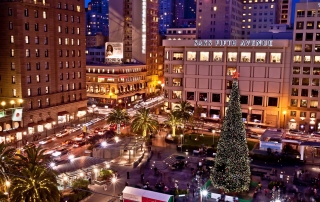 'Tis the season!
- Hyatt Regency, November 21st
They will illuminate their exterior from 6pm to 7pm then tree lighting ceremony from 7pm to 7:30pm.
- PIER 39, November 22 & 23, (great fun for the kids!)
This two-day celebration starts at noon each day with a meet and greet with friends from the Disneyland® Resort. This all day event ends with the tree lighting ceremony at 6pm.

- Macy's Union Square, November 28th
This year's Union Square Tree Lighting Ceremony (Macy's 24th Annual Tree Lighting Ceremony) . Festivities begin at 6pm with the tree lighting scheduled for 6:40pm. Get to Union Square early for the best spot.

- Grace Cathedral, Rainbow World Tree of Hope Lighting, December 1st
This year's Rainbow World Tree of Hope will be in Grace Cathedral. The lighting of this tree will take place on Monday, December 1. Events will kick off at 6pm with a concert by the Grammy Award winning SF Boys Choir. At 6:30pm is the Celebration of Hope with emcee Cheryl Jennings. The event continues with a performance by Veronica Klaus and Tammy Hall from 7:30pm to 8pm. Admission is free.

- Ritz Carlton on Nob Hill, December 4th
The Ritz Carlton kicks off the holiday season on Thursday, December 4 from 5:30pm to 7:30pm with their tree lighting ceremony. Join others in their lobby to see them light their 40-foot tree. Santa and his helpers will illuminate the tree. The ceremony begins with Dickens-era costumed carolers and ends with kids getting their picture taken with Santa. They will also offer cider, hot chocolate, and cookies.

- Presidio, December 5th
Annual Holiday Tree Lighting Ceremony . Activities start at 5:30pm and include free holiday craft activities for kids as well as caroling from the Golden Gate Carolers. Light refreshments will be available. The ceremony ends at 6:30pm and is followed by a 20-minute guided lantern walk through the forests (don't forget your flashlight!). All activities are free.