Designer Crush Q&A: Steven Favreau
November 21, 2013 Filed under: The Buzz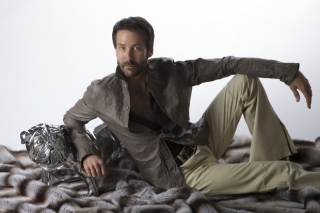 A California Home & Design Interview
1. Where do you currently live in CA and what's special about how you've designed your personal space?
I live in the Buena Vista Heights neighborhood of San Francisco, which is up the hill from the Castro heading north toward Buena Vista Park. The great thing about this neighborhood is that the park acts as a shield from the fog so it seems to bypass our street.
My partner and I don't have children and we have a no-shoe rule so I was able to decorate to my impractical heart's content. The carpets are white and there are lots of shiny surfaces. I tend to use reflective surfaces in my design, no matter the project, because I like the way light is bounced around the room and how colors are reflected onto one another.
Our building was completed at the tail end of the Art Deco period so I have nodded to its origins using shapes and finishes from that period but in an updated, modern way, including an art deco chandelier from a movie theatre in Seattle.
2. What's your dream design project? Who would it be for (dead or alive)?
Well, I would be lying if I didn't start off by saying an unlimited budget and carte blanche. I find that my most successful designs are those where the client hires me for my distinct style and lets me funnel their needs and desires through that filter. My dream design project would be for an exclusive chain of very edgy hotels for a visionary like Richard Branson. Then again, there is the chateau in France for yours truly.
3. In real life, what's your favorite design project you've completed to date?
There are a few that come to mind especially the one in Atherton where I had 90 days to completely furnish a 16,000-square-foot home, including carpets, art, accessories and everything in the kitchen.
But my absolute favorite was a smart home in Sonoma that I just finished for a great couple whose home I decorated in Pacific Heights. This is their second home, so I was charged with furnishing every bit of it. We had worked together on their main residence so we already spoke in a shorthand when it came to ideas and what direction we would go. The home is very modern and being in Sonoma, the clients wanted a wine room so we created a centerpiece between the dining room and living room cut from a storage area closed off from the main part of the home. What was once a boring white wall is now the most stunning part of the home featuring a backlit onyx wall, industrial steel and glass doors, and a wine rack made of individual dowels protruding from the existing concrete wall. It is very chic. The home features a killer view toward San Francisco and across to the north and is so high up many days you are above the cloud line. We are currently working on a second guest house on the property.
4. You've been gifted a fabulously furnished dream home but can only bring one item from your current space. What would it be?
There is only one item I would bring, as I usually like to start with a fresh slate. Gary and I bought a stunning 1830s walnut clock when we were traveling in Burgundy five years ago. We had it shipped to the states in what looked like an enormous coffin. The shipping cost almost as much as the clock. I love that clock now as much as I did the first time I saw it. Being a designer, I often tire of pieces over time but never with this one. Our home in Vermont has four tall case clocks and counting. I am clock-obsessed.
5. What's your creative process when designing a space?
My creative process always starts with the client, the architecture, and sometimes an inspiration item. Since I design with lots of texture and color, I start by layering images of furnishings, fabrics and wallpapers that speak to me. As the inspiration board begins to come together I start to layout the rooms, moving back and forth between that and my inspiration pieces.
All of this is cued by a thorough meeting with the client beforehand where I have developed a technique to help me get inside their heads. By doing my legwork at the beginning, the process runs much more smoothly and succinctly. My clients are busy professionals and expect their time to be used wisely so I do my very best to make the entire process seamless and fun.
6. Where do you score prized interior design items? Any shopping tips?
My husband and I have a home in central Vermont where there are so many great antique stores and auction houses. Some of my best finds have been from the WA Smith Auction House in Plainfield, New Hampshire. Before heading to an auction, do your homework. Research the items you are interested in. That way, you avoid spending too much and just may get an amazing deal.
If you can't get to the east coast, my favorite go to place is 1st Dibs. Not too original, I know, but good is good. I also love The Antique and Art Exchange in San Francisco and, of course, Bonhams.
7. Ever had an epic DIY disaster? What project would you never take on again yourself?
I once built a deck on my first home, in Maplewood New Jersey, all by myself. It was 90 degrees in the shade that day and I was hauling 15 foot 2 x 8s. I finally sat down and cried in the hot sun. I would never attempt anything like that again. In fact, I like to leave the projects to the appropriate pros. Nine times out of ten the results are much better. Same with interior design.
8. What new design trend are you excited to integrate into your next project?
I try to avoid outright trends, but I like the idea of saturated, high gloss moldings and casings. Wallpaper is back, but for me it never left. I use it as often as possible.
9. Lightning round!
Beach or mountains?
Beach.
Twitter or Facebook?
Facebook.
Architectural Digest or Wallpaper?
Architectural Digest.
Should you spend money on a fabulous bathroom or kitchen?
You should never have to choose just one. Way too "Sophie's Choice" for me.
Would you rather shop new or vintage?
New.
Great view or perfect pool?
Great view.
SF or LA?
SF.
10. What's one tip you wish someone had told you when first starting out in the design world?
Two words: Networking and referrals.