Art Exodus, The San Francisco Art World Is Going South
April 08, 2013 Filed under: The Buzz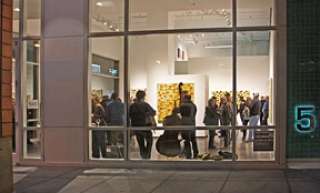 Nob HIll Gazette
In 1994, the Capp Street Project, an artist-in-residence program started by Ann Hatch, was located on 2nd Street between Brannan and Bryant Streets, and Todd Hosfelt had opened his first gallery in the upstairs space on the same corner.
Both were cutting-edge emporiums for smart and exciting new artists that were changing the art map of that moment and whose impact ultimately left an indelible mark on the city's gallery landscape.
Currently in a progression that has taken the now well-established Hosfelt Gallery farther south, Todd has recently opened his newest and most beautiful venue, 9,000 square feet of space on Utah Street on the back side of Bonhams, San Francisco's premier auction house.
Yes, it's an ever-moving great gallery board game, one that began when the Capp Street Project vacated its 2nd Street space on the ground floor, and one-time art consultant-turned-gallery owner Andrea Schwartz moved into that same Stanley Saitowitz-designed building.
Now several years later, Andrea has made yet another jump to a brand new, beautiful, and wonderfully bright space situated between Bryant and Brannan Streets on 4th Street. The newest version of the Andrea Schwartz Gallery has pristine, clean architecture and large windows. The space is so bright and stunningly open that one could almost do a "drive by" and see everything in it—but it is so inviting that it's hard to resist stopping in to explore, close-up, the exciting works by the owner's eclectic stable of artists.
From those earlier, sporadic beginnings, a full-blown "art exodus" from the once venerable downtown core of galleries is now in full swing. Taking over, or totally redoing, large spaces with ceilings that climb "halfway to the stars," as Tony Bennett sings, the new galleries boast very high walls, conducive to exhibiting large-scale works on canvas, oversized photographs, and mega-installation pieces.
The movement toward bigger and less centrally located city galleries was still considered a big leap when Catherine Clark left her well-known space in the art world mecca of Geary Street, and moved to her new location on Minna Street, near the St. Regis and right across from the entrance to the San Francisco Museum of Modern Art.The new gallery contains several smaller spaces within the main gallery, to better show off artists who range from traditional painters to video and new-media artists.
The art exodus has been due in large part to rising rents downtown and availability of larger spaces positioned outside of the city's (former) art core. It seems that gallery owners are much like the artists they represent, always in search of new discoveries, new terrain, and pushing themselves to cover new ground (in this case, literally).
One such example is the popular Dog Patch gallery, Romer Young, originally named the Ping Pong Gallery when it opened in 2001 at 1240 22nd Street off of 3rd Street. When owners Joey Piziali and his wife, Vanessa Blaikie, started it, the gallery featured a ping-pong table placed squarely in the middle of the exhibition space. (Friday evening openings were the scene of competitive games, played to add a lively dimension to the art.) Now, sans ping-pong table, Romer Young, so named since 2005, is less of an alternative art space, and exhibitions include a wider range of artists.Still, it remains a very popular gallery for never-dull opening night parties, which always draw large crowds.
Coming full circle, the original Capp Street Project founder, Ann Hatch, has also moved to a 22nd Street gallery/boutique.It offers an environment where artists create, craft, and sell their original works—and also live in apartments on the premises, creating an ideal live/work arrangement. Just add a cup of coffee from Café Piccino next door, and you have an artist's (and art aficionado's) paradise.
Is all this decentralization and thinning out of the city's art core good for the San Francisco art community?Has the one-stop-shop of 49 Geary Street—with its former overflowing First Thursday crowd, now an event of smaller proportion—been reduced to a less energetic shell of its former self?
With the very recent announcement by Brian Gross that he, too, will be moving, as he has just signed a lease to join the parade marching toward Utah Street, there will definitely be a few more vacancy signs on the front doors on Geary.
Will more galleries join the migration south? Certainly parking, lower rents, and more interesting and larger available space are all viable reasons to do so, but the truth is, the collectors of today and tomorrow—the tech-moguls and other moguls who fill the restaurants and gallery buildings for work and play—are already in SOMA, and not frequenting the core of the city.
If this younger demographic is not finding its way into the old art market zones, the smart art entrepreneurs, both new and established, are moving the art market to them!
Linda Zweig has her own gallery in San Francisco and is an art consultant serving private and corporate clients. She has also worked with several auction houses, including Christie's, New York, and Bonhams & Butterfields, San Francisco.

by Linda Zweig

Linda Zweig has her own gallery in San Francisco and is an art consultant serving private and corporate clients. She has also worked with several auction houses, including Christie's, New York, and Bonhams & Butterfields, San Francisco.