An Enchanting California Farmhouse with a Secret
May 30, 2016 Filed under: The Buzz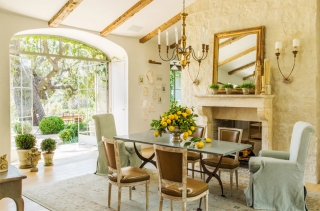 1stdibs.com - by Alison Clare Steingold

Thelma, Louise and Dot are restless. It's 4 p.m. at Patina Farm, in California's bucolic Ojai Valley — dinnertime for the three pygmy goats. The diminutive creatures, currently nudging their way onto a shaded stone porch, have certainly hit the farm jackpot: The French doors of their adoptive home, shaded by craggy ancient oaks, open to an expanse of golden gravel dotted with snack-worthy vegetation.
Meanwhile, rustic fountains, simple furnishings and eclectic outbuildings suit the needs and acute aesthetics of its human residents. A mix of perfectly weathered materials ensures that you can't quite put your finger on how long the structures have been there or exactly what style they are. And that's precisely the intention of the owners, whose thoughtful choices are now the subject of a book, Patina Farm (published by Gibbs Smith).
The residence of husband-and-wife team Steve and Brooke Giannetti — he's an architect, she's a decorator who also runs the acclaimed Velvet & Linen blog — is just shy of three years old. With an empty nest on the horizon (sons Charlie and Nick are 22 and 19 respectively; daughter Leila is 15)) and limited space for gardening on their previous Santa Monica property, the Giannettis sought out this five-acre expanse to build a bell-towered house, barns, coop and guest bungalow overlooking the fields, lake and gardens. Steve's architectural drawings detail how the family created a new daily rhythm with horses, miniature donkeys, a flock of chickens, four dogs, a bunny and the aforementioned goats. (The Giannettis' learning curve has been as steep as the terracing, with Thelma, Louise and Dot munching through the romantic landscaping of roses, cypress and espaliered apples, not to mention their share of antique chairs, before the couple reconfigured the fencing and bequeathed them the original kitchen garden for sleeping.) Below, the greenhouse-centered potager is surrounded by fields where the donkeys can play.

In the lush yet livable interiors, Belgian and French market treasures, including several carved-wood doors and sets of antique hardware, mingle with furnishings from the couple's own line, Giannetti Home, many of whose pieces scale petite: Arms and legs are thinner than in contemporary styles, and backs are built often higher, to fit old-world proportions. Collections are elegantly displayed, from large wood cutting boards balanced on a mantel to plaster architectural fragments — from Steve's family business, Giannetti's Studio, whose clients include the United States Capitol and Monticello — dotting the book shelves in his office.

The home's open floor plan was intended to bring family and guests together. Antique Swedish furnishings and a generous window seat provide ample space for lounging, and three panels of Gracie wallpaper add a touch of formality while managing to conceal the television. Read more & see more pictures...