A Beautiful Mind
October 27, 2014 Filed under: The Buzz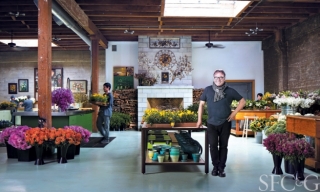 An Exclusive First Look Into the Studio of Creative Visionary Stanlee Gatti - SFC&G
Like Vishnu's dream, there is a realm of San Francisco that emerged from the mind of Stanlee Gatti. In that dimension a hundred thousand peonies grow; light radiates from countless candles; and of course, there is a cosmic DJ. As San Francisco's leading event guru, Gatti merges art, architecture, interiors, floral design and graphics into stellar happenings. Over the past three decades, he has produced events ranging from Oscar parties and opera galas to VIP weddings and chic soirées for the likes of the Gettys, Trainas, and, recently, someone named Kanye.
If Gatti's work is dreams, then his studio is his literal head office. His workspace is comprised of a trio of buildings in SoMa that form a neural network: The first houses the offices of Gatti's team, as well as a 4,000-square-foot floral studio where roses, succulents and innumerable other blooms are sculpted into artful arrangements for, on average, 10 events per week. The second building is home to a production studio for the myriad magical elements that constitute a Gatti event (on one visit, the team was carving enormous decorative wood flourishes to adorn the opera house). It also holds a literal memory bank: an archive containing thousands upon thousands of objects that have populated his installations, from vintage Mexican Batea plates to floral pyrography boxes. Third is a vast warehouse that houses still more fabulous stuffs.
Gatti moved into the first building in 1988, and it has fittingly undergone creative permutations ever since. "This building looks nothing like it did when we moved in. It has changed and evolved—walls go up and down," Gatti says, relating an instance in which he spontaneously took a hammer to a wall in his office. "I was sitting at my desk one day and feeling really closed in," he recalls. "I wanted the wall to come down, so I took a hammer and bashed away at it right then and there." This is a man, after all, who knows how to take practical action to manifest a vision.
In that spirit, Gatti central has the look and feel of a working artist's space, rather than a sterile corporate HQ. Old industrial wood floors and a tar-stained wall have been allowed to stand in all their raw beauty. Multiple skylights stream natural light into the primary spaces, and shelves of books and favorite pieces from installations line the rooms. Furnishings by midcentury icons like Florence Knoll, Horst Bruening and Luther Conover sidle up to pieces by new designers like San Francisco's Josh Duthie.
As is only appropriate, however, visual art takes pride of place. The Gatti collection includes a wide variety of photography, painting and mixed-media works by blue-chip and emerging artists. Pieces by Rigo 02, Catherine Wagner, Todd Hido and Jamey Garza are focal points in the office. Gatti's commitment to discovering and supporting new talent—whose work he often showcases at "21Pop," his annual installation at the FOG Design + Art Fair—is represented by artists such as Hunter Longe, Lucas Michael, Matt Lipps and Shannon Finley. "I have always believed that it would be artists who would save the world," Gatti says.
And that includes the event guru himself. As he crisscrosses the city to meet with his ever-expanding community of artists and craftspeople, gallerists and government leaders, writers and designers, Gatti is constantly conjuring new plans. "I drive around and think about how to make the city a better place—I don't just see a block, I see a total picture," he notes. And his drive to transform these reveries into beautiful realities? A little sign near Gatti's desk says it all: "It came from the compulsion to create."
Full Article in San Francisco Cottages & Gardens