San Francisco Is America's Best City in 2012
September 28, 2012 Filed under: The Buzz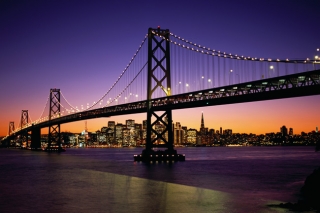 Bloomberg Businessweek
As long as chilly weather, walking uphill, and really expensive real estate don't turn you off, San Francisco has no shortage of positive qualities. Though numbering fewer than a million people, this coastal city packs in so much—from world-class restaurants and museums to community fairs and music festivals, a large educated class, and an improving economy—that many proud San Franciscans will tell you that its finish at the top of Businessweek.com's 2012 best cities ranking is well-earned.
"So glad, but also not surprised, that San Francisco did well on the best cities to live list," says Betsy Crabtree, publisher of San Francisco Arts Monthly, in an e-mail.
For the ranking, Businessweek.com once again teamed up with Bloomberg Rankings to evaluate data on 100 of the country's largest cities. We looked at leisure attributes (the number of restaurants, bars, libraries, museums, professional sports teams, and park acres by population), educational attributes (public school performance, the number of colleges, and rate of graduate-degree holders), economic factors (income and unemployment), crime, and air quality. Major professional league and minor league teams, as well as U.S.-based teams belonging to international leagues in each city were included. This year we placed greater emphasis on leisure amenities than we did last year. The figures come from data company Onboard Informatics and the nonprofit Trust for Public Land. As the methodology was altered, changes in a city's ranking from 2011 do not suggest that it has gotten "better" or "worse."
There's no agreeing on which is the "best" city for you to live in. For that, family connections, occupation, lifestyle, and perhaps a lifelong devotion to a doomed sports team all come into play. The list is our best stab at recognizing some of the most important common variables.
San Francisco, for instance, had the highest score for education (based on the previously mentioned factors), ranked sixth for leisure, and placed in the top 20 for economic factors and air quality. In addition to the usual plethora of food trucks, restaurants, bars, and parks, the diverse city also hosts an endless stream of events, including an annual jazz festival, a literary festival, and a number of fairs in the month of October alone. That, along with sheer breathtaking views, attracts about 129,000 tourists every day, according to the San Francisco Travel Association. The city's cosmopolitan nature enhances the amenities available to residents year-round.
Add a lively arts scene. While cultural institutions such as the de Young Museum may house famous works, the city also tries to bring art to all its residents. Urban Solutions' 2 Blocks of Art, a free art walk in the Central Market neighborhood, for instance, is one of a few projects bringing art to the city's challenged areas. "I've worked here for three administrations and the local government leadership has always been supportive of the arts in the city. That's really created a lot of the pride we have here," says Robynn Takayama, community arts and education program manager at the San Francisco Arts Commission.
Not everything is golden in San Francisco, of course. An influx of young techies has driven up living costs. (Average rent for a studio apartment is $2,075, according to research firm RealFacts.) As the city has grown wealthier, it has lost some of its legendary grit. Yet it has one of the largest U.S. populations of homeless people.
Northwest cities claimed two further places in the top five on our list: Seattle (second) and Portland (fifth) edged out such southern California cities as San Diego (ninth) and Los Angeles (50th).
New York, the country's largest city, placed seventh.
Safety boosted two Virginia cities: Virginia Beach and Chesapeake ranked second and fourth, respectively, in this category. The region, home to naval facilities and both active and retired military and defense-contracting professionals, was also among the most prosperous.
Washington, which placed first for leisure when factoring in amenities per capita, also received a boost from its second-place finish for education, ranking third overall.